Tag Archives: Clancy Brown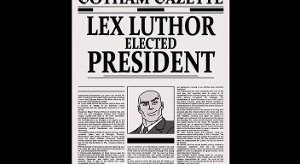 As you've no doubt guessed by now, my personal political views fall somewhere to the left of Mikhail Bakunin. So, as you'd expect, I experienced quite the nerdgasam back in the year 2000 when (through a convoluted story line tonight's film rightly jettisons without the slightest nod) Lex Luthor became President of the D.C. Universe's United States. Finally, I said to no one in particular, given that at the time I had no friends, someone in comics understands the f-ed up mess we're in.
But all good things must come to an end, and since this is D.C. Comics, that "end" must engulf the entire world in some form of world-engulfing peril, preferably one stolen from the plot of a popular summer sci-fi/action movie. Because you can't throw D.C.'s most insanely-powerful superheroes at just any-old idiotic inhabitant of the White House.
Or can you…? Here again, the Justice League TV series captured my heart by daring to actually ask this question several times to continually ass-kicking effect, only chickening out when it looked like their show might be canceled, necessitating the Climactic Battle restore the status quo. I've waited three years for a cartoon that dares to look into the actual nuts and bolts of superheroing during the Luthor Administration. All I can say is, I'm still waiting. In the meantime, at least we've got Public Enemies. {More}