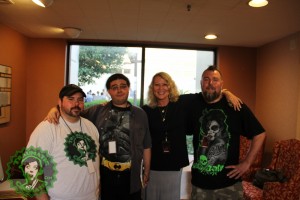 Days of the Dead 2013 Indy brought the Traumatic Trio together for the first time and after 4 days we gathered some incredible content which we now give unto you. In this episode, you'll find interviews with Leslie (Police Academy, Halloween, Devils Rejects,) Easterbrook and an official Monsters Among You tag team, featuring Jeff Wickedbeard Cochran and Harry Larry (Big and Merry) Lutze!
Check out our Facebook Page for the HUGE PHOTO galleries of both the show AND costume contest! 1000k pictures for you all to enjoy! HIT THE LIKE BUTTON while you are there! 
Ways to listen-
Subscribe to us on iTunes- 
https://itunes.apple.com/us/podcast/traumatic-cinematic/id627457917
Subscribe to our RSS feed- 
http://feeds.feedburner.com/TraumaticCinematic
Listen on Spreaker- 
http://www.spreaker.com/user/traumaticcinematic
We are on Stitcher- 
http://app.stitcher.com/browse/feed/22875/episodes
Like our logo? Well you can show it off by purchasing a shirt or phone case from our store! 
Traumatic Cinematic Store!
Ways to interact-
There is nothing we want more than to hear your opinion (good or bad) on our show and reviews. There is multiple ways to interact with the Traumatic Cinematic trio. The Shows Twitter- @
TCPodcastCrew
We have a Facebook Group- 
http://www.facebook.com/groups/TraumaticCinematic/
Our Facebook Page- 
http://facebook.com/TraumaticCinematic
Email us- 
TraumaticCinematic@gmail.com