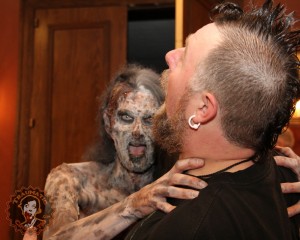 The Traumatic Cinematic Trio continues their coverage of Days of the Dead 2012! In this episode, we sit down with Tyler Mane (X-Men, Halloween, Joe Dirt, Halloween 2, Troy, and the upcoming Compound Fracture) Following that is the deep sexy voice from The Nightmare Man (Dexter Experience, The Governor, and Freddy.) Then we are joined by That Metal Show Pittsburg Joe followed by Kyle Polling from Bloodbaths and Boomsticks podcast. And to finish it all off I recorded the first 12 minutes of DJ Tre's Monster's Ball set and it is possibly the only recording of it in existence!
Ways to listen-
Subscribe to us on iTunes- 
https://itunes.apple.com/us/podcast/traumatic-cinematic/id627457917
Subscribe to our RSS feed- 
http://feeds.feedburner.com/TraumaticCinematic
Listen on Spreaker- 
http://www.spreaker.com/user/traumaticcinematic
We are on Stitcher- 
http://www.stitcher.com/podcast/lewis-cougil/the-traumatic-cinematic?refid=stpr
Like our logo? Well you can show it off by purchasing a shirt or phone case from our store! 
Traumatic Cinematic Store!
Ways to interact-
There is nothing we want more than to hear your opinion (good or bad) on our show and reviews. There is multiple ways to interact with the Traumatic Cinematic trio. The Shows Twitter- @
TCPodcastCrew
We have a Facebook Group- 
http://www.facebook.com/groups/TraumaticCinematic/
Our Facebook Page- 
http://facebook.com/TraumaticCinematic
Email us- 
TraumaticCinematic@gmail.com