Tag Archives: James Remar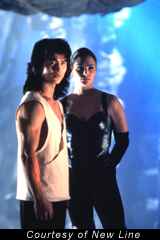 Plenty of critics dismissed Mortal Kombat during its initial run in theaters. Even the genre critics gave it a lukewarm reception. They found it fun in a vague, flat-tasting sort of way; another pitiful Enter the Dragon rip-off with a vaguely mythological twist.
Still, the damn thing made $70 million domestic, three and a half times its initial budget. Hollywood's obsession with the "sure bet" is a well-documented phenomena, and we shall dwell upon it another time. We shall only pause to say that this "franchise" mentality is rapidly becoming the norm in video games as well. Be sure to expect a lot less overall originality from the folks at all your favorite design houses. The business of video games has, apparently, become Business.
Not that it was ever anything but business, mind you…ah, enough stalling. It's time for me to repeat myself:
Fighter games, by their very nature, are short on plot and long on action. A Character (you, in other words) is magically whisked from one flashy arena to the next, where you must hit an opponent until he/she stops moving. Repeat. So in one sense, many of this movie's critics are correct: it is slavishly faithful to its source material in terms of structure and style. {More}