Tag Archives: Amanda Silver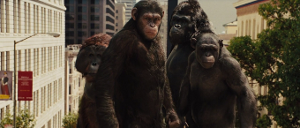 …is the seventh film in, and second reboot of, the Planet of the Apes franchise, even though the last one was officially marketed as a "remake." It wound up being an incredibly stupid mistake that exposed Tim Burton for an idea-starved thug he'd become by then and apparently staked this entire franchise through the heart. But let's be honest with ourselves and admit these movies hadn't been "relevant" for years. Most intelligent fans trace the decline of the franchise back to the moment they stopped being about Planets full of Apes and became all about justifying the existence of said planets to fools who won't take these movies seriously no matter how many prequels you roll out.
Ten years after that debacle, a hit-starved 20th Century Fox unearthed the franchise's corpse and removed the stake, like many a Hammer horror victim. I didn't expect much going in, being long-since burnt out on reboots. Director Robert Wyatt didn't help things by explicitly compared it to Batman Begins. You could go either way with that one. Everybody wants to be the goddamn Batman, but not everyone has the chops. I can remember thinking, "From the writers of The Relic? Are you fucking kidding?" So before we do anything else, I'd like to personally apologize to Amanda Silver and Rick Jaffa, one writer to two others.
Guys: I'm sorry I doubted you. Your movie's awesome. In fact, it'd be prefect…if it didn't insist on featuring James Franco. Continue reading Rise of the Planet of the Apes (2011) →