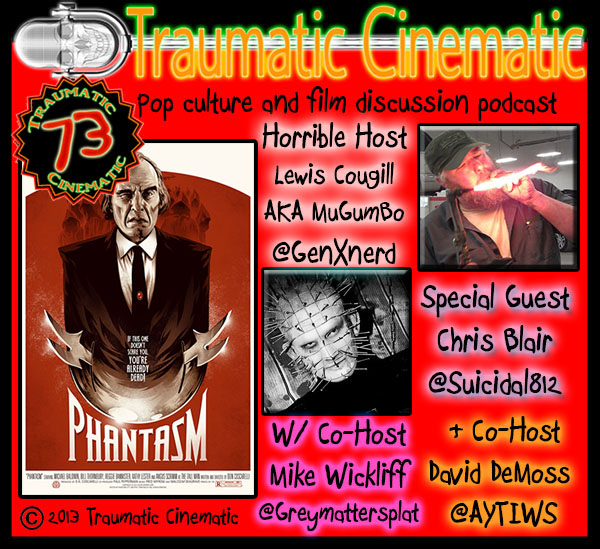 Something is wrong in Mike Pearson's small town of Anywhere, USA: the death rate is climbing and the dead are coming back to life as angry Jawas. The local mortician, the Tall Man, has superhuman strength and a squadron of flying cybernetic death balls to do his bidding. He may be an alien. He may be a Highlander. He may already know Mike is on to him. He certainly knows more than the Traumatic Cinematic crew. Join us as we examine Don Coscarelli's nightmare opus of psychedelic late-70s horror madness: Phantasm. Will it be the classic fright fest everything says it is, or is the game now finished and do we all die?
You can (and should) find Chris (@Suicidal812) Blair at his Facebook page and on Twitter @Suicidal812. Also check out Monsters Among You group! Don't forget that you can MEET Chris and US at Days of the Dead Indianapolis July 5-7 2013. Also check out the THIS WEEK on Traumatic Cinematic show Chris did with us a few weeks ago. Act 1 – The Traumatic Trio shoots the shit and explores the interesting hobby Mr. Blair has (cos-play.) They also start to explore the film too! Act 2 Intermission- Some music from the movie… you should know it. Act 3- The levels of hell called back our demonic interview so the Traumatic Trio delve deep into this classic.
Ways to listen-
Subscribe to us on iTunes- 
https://itunes.apple.com/us/podcast/traumatic-cinematic/id627457917
Subscribe to our RSS feed- 
http://feeds.feedburner.com/TraumaticCinematic
Listen on Spreaker- 
http://www.spreaker.com/user/traumaticcinematic
We are on Stitcher- 
http://app.stitcher.com/browse/feed/22875/episodes
Like our logo? Well you can show it off by purchasing a shirt or phone case from our store! 
Traumatic Cinematic Store!
Ways to interact-
There is nothing we want more than to hear your opinion (good or bad) on our show and reviews. There is multiple ways to interact with the Traumatic Cinematic trio. The Shows Twitter- @
TCPodcastCrew
We have a Facebook Group- 
http://www.facebook.com/groups/TraumaticCinematic/
Our Facebook Page- 
http://facebook.com/TraumaticCinematic
Email us- 
TraumaticCinematic@gmail.com
MuGumBo (Lewis R. Cougill)
Twitter @
GenXnerd
Website- 
http://GenXnerd.com
, 
http://Twitflix.net
, 
http://TraumaticCinematic.com
, and MANY MANY MORE.
Mike Wickliff
Twitter @
Greymattersplat
David DeMoss
Twitter @
AYTIWS
Website-  you're there right now.