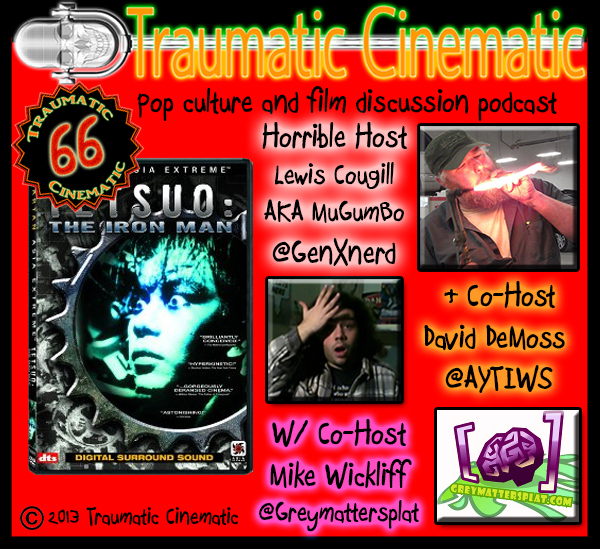 Being three proud citizens of the U.S. of A., Our Heroes had to wait a week before Iron Man 3 debuted in their local theaters. To distract ourselves from the injustices of international Big Studio release schedules we traveled back to Tokyo and that magical time in the late 80s when technology and the occult were conspiring to kill everyone and their sociopathic girlfriend. Join us as we plumb the depths of cyberpunk cult auteur Shinya Tsukamoto and his 16mm feature Tetsuo: The Iron Man. It has nothing to do with "your" Iron Man, and not too terribly much to do with Akira, either…apart from a coincidence of one character's name and a few key themes. Which ones? Well, you'll have to listen in and see, won't you? But beware the Vengeful Dead. They're just waiting to kick your ass and replace your dick with a bloodthirsty power drill.
Podomatic| Play in new window | Download | Embed
Subscribe to us on iTunes- 
https://itunes.apple.com/us/podcast/traumatic-cinematic/id627457917
Subscribe to our RSS feed- 
http://feeds.feedburner.com/TraumaticCinematic
Listen on Spreaker- 
http://www.spreaker.com/user/traumaticcinematic
We are on Stitcher- 
http://app.stitcher.com/browse/feed/22875/episodes
Like our logo? Well you can show it off by purchasing a shirt or phone case from our store! 
Traumatic Cinematic Store!
There is nothing we want more than to hear your opinion (good or bad) on our show and reviews. There is multiple ways to interact with the Traumatic Cinematic trio. The Shows Twitter- @
TCPodcastCrew
We have a Facebook Group- 
http://www.facebook.com/groups/TraumaticCinematic/
Our Facebook Page- 
http://facebook.com/TraumaticCinematic
Email us- 
TraumaticCinematic@gmail.com