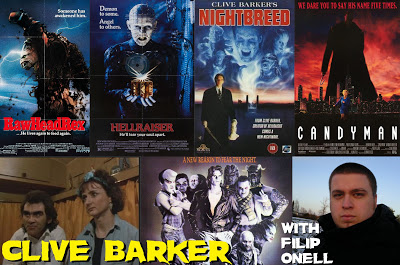 Internet sensation Jon Cross and our own Swedish correspondent, Filip Önell, unlock Lemarchand's box and explore the films of, by, and based upon the works of Clive Barker in this truely epic Podcast from the After Movie Diner. Listen as your hosts explore Rawhead Rex, Hellraiser, Nightbreed, Candyman, and whatever else pops into their heads on the road to the Dreamsea. Give it a download, won't you? Be its victim!
Jon's site, The After Movie Diner
Filip's site The Swedish Cinemasochist
Full disclosure: I, and by extension And You Thought It Was Safe, received what I believe you English call a "right proper" in the midst of the following discussion. If I've done nothing but connect intelligent, articulate, and downright hilarious people, despite the literal oceans between them, then these mad piles of swearing, invective and spelling errors have not all been in vain. And if the Iad Uroboros broke through tomorrow, I'd great them a happy man with both middle fingers in the air.
Download episode here (right lick, "save target/link as" to download MP3