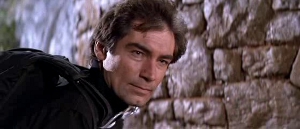 Introduction: Why Novels Are Better Than Films (Bond)
Enter Timothy Dalton, to the collective dismissal of a generation. Not my generation, mind  – I was four at the time and at least a year away from achieving what I'd call "consciousness." I speak of the previous generation of Bond fans Roger Moore created with his twelve year stint in the tux…and the generation before that, who grew to see Moore's films as a fundamental betrayal of  Ian Fleming's creation and his suave, snarky, seemingly-detached counterpart Sean Connery and Richard Maibaum created.
Neither group seems particularly concerned with the fact Bond-the-character-in-these-films is an empty suit. As with most literary characters, translating Bond into film removes the one thing that made him bearable in prose: third-person-limited narration. Fleming's novels are built out of it, their prose colored by Bond's oft-irredeemable opinions on life, the universe, and everything. He's exactly the type of "stiff-assed Brit" you'd expect to meet in the better clubs of mid-50s London: defiantly prim and proper; fussy and cynical and racist. Always making snap judgments on the most superficial of things*. But also experiencing the full range of human emotion in a way none of his actors can. They don't have the time – most of their movies are already too long and none of the Connery or Moore films dared pause to show Bond agonize over a decision, or ruminate on a long life of forcing himself to do horrible things to worse people.
[*My favorite of these comes in the novel Moonraker – which had little to do with the movie Moonraker apart from the villain, Hugo Drax. Bond decides Drax is The Villain, not only because the man cheats at bridge, but because he sweats while he does it.]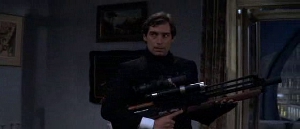 Whatever their faults, at least the Bond films of the early-80s tried to flesh out the flat archetypes who inhabit Bond's film-world. Look at For Your Eyes Only, which Frankensteined two short stories into my favorite post-Moonraker Moore film. Or Octopussy, which turned a one-off with a snicker-inducing title into its titular character's Defining Element of Tragedy. But the the last time Bond got any character development, back in 1969, almost everyone cried foul.
The Observer's Tom Milne, "fervently trust[ed On Her Majesty's Secret Service would] be the last of the James Bond films," because the series seemed to wrap itself up in a nice, neat bow of tragedy. I fervently trust Milne's quote will go down in history as movie criticism's own "Dewy Defeats Truman." His colleague across the pond, Village Voice critic Molly Haskell – one of the proud few who gave OHMSS the time of day – found her audience hissing like English primary school children. Both noticed the same thing: an audience that didn't want Bond to develop. His doing so introduced a dangerous element of change.
If you wanted to be cynical (and for some of us, it's not a question of "want") you could see the entire Moore Era as a twelve-year-long holding pattern. EON survived Stagflation and trickle down economics by getting into the Cinematic Comfort Food business. As with any comfort food, the results are filling…but nutritionally dubious…and a steady diet can make you sick of anything, even if it's your favorite. Ask this year's crop of college freshmen how they feel about cheap pizza in about six months. My research suggests Bond fans felt the same in 1983.
Part 1: Happenstance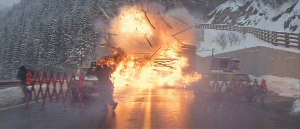 That's the year US Magazine ran a poll, asking readers to pick the next Double-Oh Seven. A then-thirty-year-old TV actor named Pierce Brosnan won by a country mile due to his titular role in then-recent hit series Remington Steele. After that, a lot of "ifs" start crashing into each other. If Kevin McClory hadn't gone ahead and made Never Say Never Again…if EON, skittish of competing against the First Bond, hadn'd convinced Moore to play the Third again…and again…if NBC head Warren Littlefield had just let Brosnan's contract expire over the summer of 1986…if Timothy Dalton had accepted the role when Cubby Broccoli first offered it to him, back in the late-60s…if any number of other things had happened just a little bit differently…the Brosnan Era would've begun eight years earlier.
A lot of Bond fans figure it should have, allowing them to dismiss Dalton outright instead of puzzling over the two films he headlined. The Living Daylights is barely remembered at all, save with a shrug an a "meh…it's alright." Because it really is par for this franchise: a decent Cold War spy-fi story that contains (most of) the familiar tropes: gadgets, guns, gorgeous girls, an Aston Martin (which Moore's Bond never drove) and a Good Guy Army to blow things up during the climactic battle. Unfortunately, by this point, there are fourteen other films just like it in this series alone. No one went into The Living Daylights without some preconceived notion of what (or whom) James Bond should be.
All of which means Dalton came to the role with the undeserved reputation of an usurper – a Shakespearean charlatan, talking down to us commoners at a time when everyone behind the camera seemed content to coast on autopilot…as I think A View to a Kill proves. Dalton had the unmitigated gall to actually put in some effort, prompting a natural human desire to hammer down this loose nail. How dare he appear to give a shit? Where does he get off, reading Fleming's books? Referencing them on-set? Doing his own stunts!?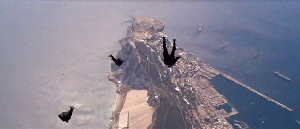 Bad enough the guy makes Ah-nuld and Sly look bad; he had to go and play the role seriously, "ruining" everyone else's so-called "fun." In a post-Mark Kaminsky/Marion Cobretti Age, the Moore Era's light heart and self-referential sense of humor were the only things distinguishing Bond movies from the rest of the Action genre. So went mainstream critical thought at the time (with Roger Ebert leading the charge). Everyone knows these films are ridiculous, so why shouldn't the film know it, too?
Part 2: Coincidence(?)
Yet I think creative exhaustion prompted this move towards a more "serious" James Bond as much as demographic research or the lead actor's performance choices. After Moonraker Bond's creators had no choice but to rip their plots out of the headlines and try to make a new Bond for a new age. Even A View to a Kill is just Goldfinger for the middle-80s. Living Daylights, then, is a Détente Era From Russia with Love. Once again, Bond teams up with a hot, naive, blond, Soviet civilian, whom he hopes will lead him to his objective. As before, the two "fall in love" over the course of their shared adventure and I don't really buy it.
Because this is Bond, James Bond. He treats women like potato chips, even in this, the film with supposedly "just one" Bond Girl. He still delays reporting in the deaths of two fellow Double-Ohs during the pre-credit sequence to shag a unnamed Mediteranian bimbo. Because he landed on her boat. I'm sure Double-Oh Four and Two would understand, James. You asshole.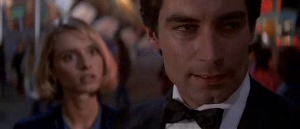 That's just it, though: Timothy Dalton was the first actor honestly unafraid to play Bond as the asshole I always saw in Fleming's books. Much as I find that Bond and everything he stands for contemptible, I appreciate that – over his run of twelve novels and two short story collections – he became a very nuanced, three-dimensional asshole. A character. Instead of an actor playing a character (and being bored with/self-conscious about their role to boot). There's an ice in Dalton's eyes and a manic, PTSD energy in his face that makes him the first actor I genuinely believe as that character. At the same time, he does things – like laugh, or get incredibly pissed, or scan a crowd suspiciously with his face in extreme close up, so we can watch his eyes roll across faces in the crowd like the heavy machines they are – that reveal a humanity characters often lack after five films, never mind fifteen. After two decades of declining returns, watching Dalton is like being slapped in the face with a Swiss avalanche. I'd honestly forgotten what an enthusiastic Bond performance looked like.
Shame about the rest of the movie.
Part 3: Enemy Action
If this were any other superhero film, I'd chalk its problems up to "Villain Squeezing," which hobbles things here for the same reason it hobbled Octopussy and FYEO: we don't spend enough time with either villain. The defecting Russian General Georgi Koskov (Jeroen Krabbé) gets caught in the Kristatos Paraodox and wastes his screentime pretending to be good. American arms dealer and blatantly Not-Ollie North Brad Whitaker (Joe Don Baker) is…Joe Don Baker as a megalomaniac military fetishist. The kind of guy who re-enacts famous battles with dioramas instead of action figures.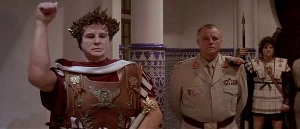 Both give interesting performances that feels entirely out of place next to Dalton's. Krabbé is too lightweight to pull off "rogue Russian general" especially since the last one we saw was Octopussy's General Orlov, a crazed crypto-Nazi. Georgi's more of a jovial, two-faced uncle, even when he's not trying to fool anyone – the kind who makes you pat your wallet, just to make sure it's still there. His Evil Plan seems to revolve around duping the Soviet Military into finanacing his early retirement by having them pay Whitaker for arms so Whitaker can pay Koskov for heroin and both can live like kings in Whitaker's palace/home. No real menace in all that, is there?
Baker couldn't be menacing in a Hitler outfit – as this film outright proves. Considering he's the one who gets the final shoot out with Bond, you'd think he'd have more screen time. Really, General Koskov and Whitaker should've been combined into one character called General Koskov, streamlining the plot mightily.
Past that, the film rests on a foundation of Bond's relationship with Czech cellist Kara Milovy (Maryam d'Abo). Meant to think she's a KGB assassin intent on preventing Koskov's defection, Bond refrains from killing her when his instincts tell him she's not a pro. Most of the film follows Bond as he tries to get in good with Kara – his only lead to Koskov and Whitaker's plan…and while I like seeing Bond go from charming liar, feeding a mark his cover, to annoyed bodyguard protecting the woman he "loves"…their journey feels forced and rushed.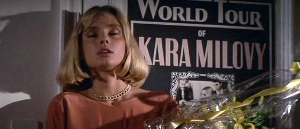 That's not d'Abo's fault: she's an incredibly intelligent, talanted actress. Kara, on the other hand, is a sheltered scholarship kid from behind the Iron Curtain. Ya know: a stereotype. She oscillates from competent (even getting one over on Bond at one point) to breathlessly air-headed ("Well, at least we're together.") to downright bad-ass (leading the Good Guy Army charge by shaming the Good Guy Army's leader into charging) thanks to an inconsistent script. She doesn't have a character arc – she has convenience. This ensures she and Bond will have a completely conflict-free relationship.
Kara's is a Cinderella story from the Cold War's dying days, with Bond as her Prince Charming and Fairy Godmother. We're supposed to go, Of course she melts for him – he buys her pretty things and takes her to opera matinees in the 2nd most beautiful city on planet Earth – Vienna! Textbook Mary Sue bullshit, especially next to Bond Girls of the past. I'm more concerned about why he's doing all this. Is it just how he rolls, being "Bond. James Bond" and enjoying the finer things in life so much he'll bribe the Ferris Wheel guy to stop the ride so he and Kara can join the fifty-feet club? Is any of his affection genuine? We don't know, and I don't think we can in a purely visual medium. You'd have to add something intrusive and stupid, like voice over narration, and that way lies madness. Ask Frank Miller.
Of course we know Dalton's reactions aren't genuine – he's an actor, playing a part, with access to much more information than we. He could walk right up to John Glen or Richard Maibaum and ask questions, or interject his own ideas about motivation into the scene. Ideas that are never discussed in these scripts, which stopped paying attention to Bond's life outside spywork when they gambled (correctly) we'd all forget Sylvia Trench ever existed.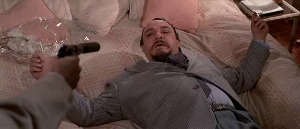 A little bit of retoractive continuity is fine – the series rarely shouts out to its own past, anyway. But in this film, the retconns start to pile up, evidence The Living Daylights was meant to be a full-on reboot at some point. We have a new head of the KGB, General Pushkin (John Rhys-Davies) to go with our new Bond, and like Bond, Rhys-Davies' role was originally meant for another actor. Walter Gotel, whose General Gogol appeared in the last five Bond films, was supposed to be our (no pun intended) Red Herring in this one, but Gotel's failing health prevented anything beyond a cameo.
Not that Gimli son of Gloin isn't the best damn thing about this movie, as is often true when he's involved…but his character comes with a relationship to Bond that must've happened in a film we never saw. As does Bond's Local Contact, Saunders (Thomas Wheatley), head of Station V, Vienna, who tells Bond to "forget the ladies for once" with the cattiness of someone in the know. Everyone in the film recognizes Bond on sight, and we're supposed to…even though he's now the reverse of the Bond we saw two years prior. Young, athletic, coldly brutal instead of aging, punny and prone to trading places with stuntmen.
The Fourth Bond also has a higher body count than his predicessor, despite telings Saunders "I only kill professionals." Right, James. Tell me another. Would any of the three previous Bonds have said the same? Professional whats, Double-Oh Seven? Supervillains? He kills plenty of people here, thanks to the new car – which probably did a lot to inspire the Batmobile we'd all see two years later – and the fifth ski chase sequence in these films. If once is happenstance, twice is coincidence, and three times is enemy action, what does that make five? Can we make it the last, please? No more, no mas, no bueno.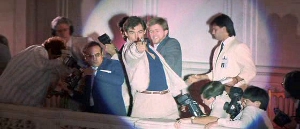 By the end, Bond's hanging off the back of an airplane, fighting a blond henchman (Andreas Wisniewski), and I can't care anymore, despite Necros being somewhat cool in all of one scene. The climax with Whitaker is as anti-climactic as these Final Showdowns can get. Remember when Bond used to throw down with memorable henchmen, like Wint and Kidd, or Teehee Johnson? Is that what Whitaker's supposed to be? Then why does he give Koskov orders? Why does Koskov get to live after taking a airplane to the face? So we can have a scene where Krabbé's talent wilts like a blade of grass before the shinning power of Professor Arturo? I'm all for that…so why not make him the villain? Christ sakes, he's John Rhys-Davies! Watching this film waste such a precious natural resource is physically painful. Not even a foot chase across the rooftops of Interzone (which would go on to inspire a similar chase in another Bond film, almost twenty years later) can stop me from ending this film in a relative funk.
Because honestly, The Living Daylights is another shaky, soft reboot of James Bond. It's the Bizzaro version of Live and Let Die: instead of a Bond-in-Saint's-Clothing and his poorly written Girl vs. a pair of decent villains, we have a strong Bond vs. weak villains and the most committee-designed, "normal" Girl thus far. All trapped in a film I wish were better, or at least more memorable, than all the real world drama that created it. I'm officially pinning all my hopes on License to Kill. Baron Samedi, have mercy on it, and the rest of us, too.