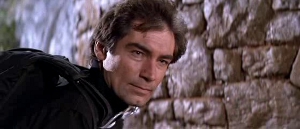 Introduction: Why Novels Are Better Than Films (Bond)
Enter Timothy Dalton, to the collective dismissal of a generation. Not my generation, mind  – I was four at the time and at least a year away from achieving what I'd call "consciousness." I speak of the previous generation of Bond fans Roger Moore created with his twelve year stint in the tux…and the generation before that, who grew to see Moore's films as a fundamental betrayal of  Ian Fleming's creation and his suave, snarky, seemingly-detached counterpart Sean Connery and Richard Maibaum created.
Neither group seems particularly concerned with the fact Bond-the-character-in-these-films is an empty suit. As with most literary characters, translating Bond into film removes the one thing that made him bearable in prose: third-person-limited narration. Fleming's novels are built out of it, their prose colored by Bond's oft-irredeemable opinions on life, the universe, and everything. He's exactly the type of "stiff-assed Brit" you'd expect to meet in the better clubs of mid-50s London: defiantly prim and proper; fussy and cynical and racist. Always making snap judgments on the most superficial of things*. But also experiencing the full range of human emotion in a way none of his actors can. They don't have the time – most of their movies are already too long and none of the Connery or Moore films dared pause to show Bond agonize over a decision, or ruminate on a long life of forcing himself to do horrible things to worse people.
[*My favorite of these comes in the novel Moonraker – which had little to do with the movie Moonraker apart from the villain, Hugo Drax. Bond decides Drax is The Villain, not only because the man cheats at bridge, but because he sweats while he does it.] Continue reading The Living Daylights (1987) →