Tag Archives: Brendan Gleeson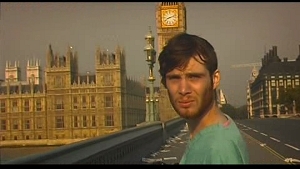 This is another one of those apparently genre-redefining films that all the first-run critics praised. Most of the genre critics have since torn this film apart, the better to examine its undigested stomach contents. I was going to do that, too. But my fellow Cold Fusioneer, MonsterHunter, already did. So go read it. It's awesome. And it leaves me free to do my own damn thing.
As my colleague noted, George Romero's Dawn and Day of the Dead played Alex Kintner here, inspirations director Danny Boyle rightly copped to early and often. He and I share a love for Day of the Triffids, and while he's never mentioned Geoff Murphy's The Quiet Earth (to my knowledge), I'll bet we both watched that at some point in the mid-to-late-80s.
Boyle was directing TV movies at that time, a job designed to make people wish for some population-flattening apocalypse. Then he hit what he must've considered "the big time" with Trainspotting, a movie about Scottish heroin addicts so honestly well made even American heroin addicts managed to work up some small spark of interest in it. For a moment there in the early 2000s, Trainspotting became part of a Unholy Trinity of Awesome movies every member of my small, real-world-based subculture championed, whether they liked talking about movies or not. Most didn't, but I kept my ear to the ground and eventually rumors swirled that the guy who did Trainspotting was making a zombie movie. How could that be anything less than awesome? Continue reading 28 Days Later…(2002) →