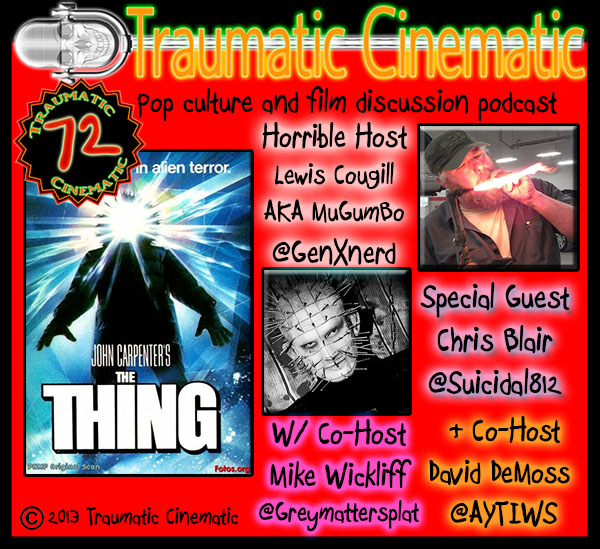 "Lingering odors of machine oil contrasted sharply with the taint of harness dressing and leather. Yet, somehow, through all that reek of human beings and their associates – dogs, machines and cooking – came another taint. It was a queer, neck-ruffling thing, a faintest suggestion of an odor alien among the smells of industry and life. And it was a lifesmell. But it came from the thing that lay bound with cord and tarpaulin on the table, dripping slowly, methodically onto the heavy planks, dank and gaunt under the unshielded glare of the electric light."
With these words, John W. Campbell began a story that would chill spines and inspire movies long after his death: Who Goes There? A story of scientists trapped in Antarctica, facing all the hostile ravages of nature and the with a shape-shifting alien monster they foolishly freed from the ice. Filmed in 1951 as The Thing from Another World, the story reached even more once- and future horror fans, including a young man named John Carpenter, who'd go on to redefine what "horror" meant to American moviegoers in the late 70s. Hot off the success of Halloween and Escape from New York, Carpenter uped stakes to British Columbia (taking Escape from New York's star, Kurt Russell, and future They Live star Keith David with him) to film the coldest damn sci-fi movie of Summer, 1982. (To this day the opening shots of glacial mountains are enough to freeze all but the hottest naughty bits.) Despised by critics and ignored by fans during its initial release, The Thing became one of the first films to find a second life on home video once VCR's grew cheap enough for standard-issue humans to afford. Can the Traumatic Cinematic Crew find fault with a film that scarred the bejesus out of all three of us as a child? Or is this cult classic classic enough to pass even our hot-wire tests?
You can (and should) find Chris (@Suicidal812) Blair at his Facebook page and on Twitter @Suicidal812. Also check out Monsters Among You group! Don't forget that you can MEET Chris and US at Days of the Dead Indianapolis July 5-7 2013. Also check out the THIS WEEK on Traumatic Cinematic show Chris did with us a few weeks ago.
Ways to listen-
Subscribe to us on iTunes- 
https://itunes.apple.com/us/podcast/traumatic-cinematic/id627457917
Subscribe to our RSS feed- 
http://feeds.feedburner.com/TraumaticCinematic
Listen on Spreaker- 
http://www.spreaker.com/user/traumaticcinematic
We are on Stitcher- 
http://app.stitcher.com/browse/feed/22875/episodes
Like our logo? Well you can show it off by purchasing a shirt or phone case from our store! 
Traumatic Cinematic Store!
Ways to interact-
There is nothing we want more than to hear your opinion (good or bad) on our show and reviews. There is multiple ways to interact with the Traumatic Cinematic trio. The Shows Twitter- @
TCPodcastCrew
We have a Facebook Group- 
http://www.facebook.com/groups/TraumaticCinematic/
Our Facebook Page- 
http://facebook.com/TraumaticCinematic
Email us- 
TraumaticCinematic@gmail.com
MuGumBo (Lewis R. Cougill)
Twitter @
GenXnerd
Website- 
http://GenXnerd.com
, 
http://Twitflix.net
, 
http://TraumaticCinematic.com
, and MANY MANY MORE.
David DeMoss
Twitter @
AYTIWS
Website- And You Thought it Was Safe? 
http://AYTIWS.com
Mike Wickliff
Twitter @
Greymattersplat