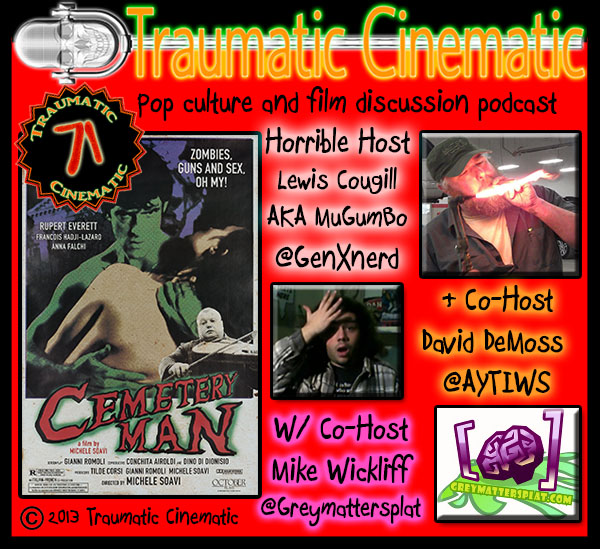 Podcast: Play in new window | Download | Embed
Are you sick of American comic books and the movies they inspire? Do you despise armies of sanctimonious do-gooders in armored tights? Do you long to read comics about self-obsessed death-mongers and their never-ending battles with the undead? Well…you're probably already reading The Walking Dead. But just in case you aren't, you should be reading Italian comics, especially the work of journalist, novelist, and Dylan Dog creator Tiziano Sclavi. If you'd like to know more, watch Cemetery Man, the 1994 zombie dramedy, starring Rupert Everett (whom we last saw as a minor character in Stardust and whom you probably know as the voice of Prince Charming in Shrek 2). With production money from three countries and actors from two more (at least), this obscure, surrealist horror film survived delays, cost-overruns, baffled American distributors, and its own crappy ad campaign to become a home video cult classic. Join the Traumatic Cinematic crew as we perform another postmortem, dig our hands deep into this film's putrid guts and see if we can determine cause of cult success.
Subscribe to us on iTunes- 
https://itunes.apple.com/us/podcast/traumatic-cinematic/id627457917
Subscribe to our RSS feed- 
http://feeds.feedburner.com/TraumaticCinematic
Listen on Spreaker- 
http://www.spreaker.com/user/traumaticcinematic
We are on Stitcher- 
http://app.stitcher.com/browse/feed/22875/episodes
Like our logo? Well you can show it off by purchasing a shirt or phone case from our store! 
Traumatic Cinematic Store!