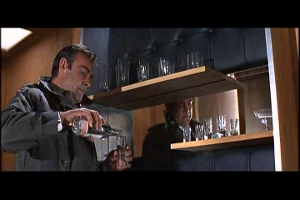 And now we get to talk about Sequelitis. You'd expect the fifth Bond movie to bear some resemblance to its predecessors, but You Only Live Twice can't seem to help calling attention to its heritage. Personally, I blame Roald Dahl. He should've turned this project down from the start. He and Ian Fleming were apparently good friends in real life, but their writing styles couldn't be further from each other if you placed them on opposites sides of the cosmos. Dahl hated the novel that shares this film's title and, twenty-one years after the film premiered, flat-out admitted to Starlog magazine "I didn't know what the hell Bond was going to do." Producers Albert Broccoli and Harry Saltzman answered by giving him The Formula, whole and (more or less) complete by 1966, at the latest.
As Dahl defined The Formula would go on to define this series:
 "Bond has three women through the film: If I remember rightly, the first gets killed, the second gets killed and the third gets a fond embrace during the closing sequence. And that's the formula. They found it's cast-iron. So, you have to kill two of them off after he has screwed them a few times. And there is great emphasis on funny gadgets and love-making."
With this information, the author of Charlie and the Chocolate Factory became the author  what is essentially Dr. No 2: In Japan. You can tell how many people actually bother to read Dahl's work by whether or not they call this film "silly." Sorry, Charlie, but compared to The Chocolate Factory (published the same year as this film's eponymous novel) and especially compared to The Glass Elevator, this is Roald Dahl phoning it in after he's taken a fist-full of horse tranquilizers. And he still managed to create one of the most influential films of the series, large portions of which have become fertile ground for parody, satire and knowing reference. So I come not to bury this fifth Bond film, but to lament what could have been…and argue that, as "silly" as things get in this picture, they could've stood to get a whole lot "sillier." There might be more to recommend.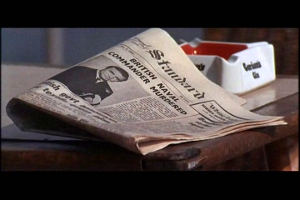 After all, Dr. No wasn't very serious to begin with. (I can hear snobby critics calling down to me from out of the past: "Metal hands indeed! Atomic-powered radio cannons? Hogwash!") And that was fine. I don't take suave superspies all that seriously. Obviously the producer's didn't either: their Formula makes no mention of the spy vs. supervillain conflict that defines the series much more than the location of Bond's penis at even given moment. Goldfinger elaborated on the formula, taking it to it's logical extreme. Thunderball stumbled by trying to go further. You Only Live Twice tries to recapture some of that Goldfinger magic and still fails…but at least they came a little closer. Certainly managed to recapture that Dr. No magic there for a bit at the beginning.
To get there, though, we have to go through a very Thunderball-ish diversion, with Bond (still Sean Connery) apparently dying for the third time in five movies (and the second time in a row). Except Thunderball had the good sense to be embarrassed by this obvious fake-out. You Only Live Twice milks the sequence for far too long. All to stage another briefing scene with M (still Bernard Lee) inside a submarine…where Ken Adam dutifully recreates M's office in miniature (and slightly fishbowl-shaped) form.
It's the same scene we get in all the others: Bond tosses his hat on the rack, Moneypenny (still Louis Maxwell) tells him he's late (as usual), Bond learns his mission, flirts with Moneypenny some more, and we're off to the adventure. Except this time we're on a boat. I do like the idea of Bond being shot out of a torpedo tube, though. Without that, this sequence could've taken place back at MI6, like four of the last five. At least the one in Thunderball had some scale to it, driving home the scope of the threat. This has…some great set design…but what purpose does it serve, other than to give Ken Adam a chance to go nuts?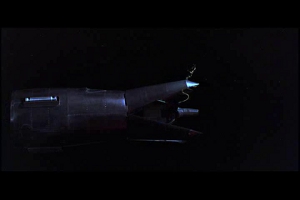 The threat's certainly large enough to justify a full-scale meeting of the Double-Os in the Big Giant Conference Room. A mysterious rocket just snatched an American space capsule right out of orbit. The Americans blame the Russians while the British believe the UFO came down somewhere in the Sea of Japan. Neither Superpower believes MI6 and everyone expects World War III to break out over these Grand Theft Spacecraft incidents. We never really see evidence of that, but then again, World War III will be over in the time it takes those far-sighted and responsible men in the State Department and the Pentagon to press all the right buttons.
That being said, there's not much tension to Bond's time in Japan, because tension comes from opposition…which Bond faked his death to avoid. There are no shady dudes waiting for him at the airport this time…just Aki (Akiko Wakabayash, better known to kaiju fans as "the Princess Selina from Ghidorah, The Three-Headed Monster") – possibly the most underrated Bond Girl in the franchise. Everyone lavishes attention on Mai Hama's Kissy because she's the one who lives and the one who winds up in the white bikini. Good qualities, both of them. But we and Bond spend most of the movie with Aki, who (unlike some other Bond girls) comes across as a hot chick and a believably resourceful, professional spy, all thanks to the capabilities of her actress. (And her actress' doubles – goddamn this girl can drive.)
Aki eventually leads Bond to the second thing I love about this movie – Tiger Tanaka (as Tetsuro Tamba) – the coolest Local Contact Bond's met since Kerim Bay. He supplies all the other cool things about this movie: the underground hide-out, the private subway, the bevvy of bikki-clad beauties, the ninja army. He is his own film franchise waiting to happen. The best supporting characters seem to have lives of their own, because what we see of them is elaborate and complicated enough to mimic life…or at least, the elaborate complicated life of our protagonist.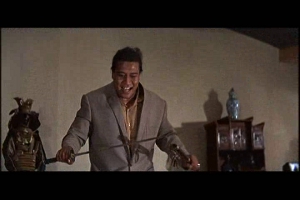 Problem is, by this point, Bond's life's become routine. It's all so simple. His secondary local contact, MI6 operative Henderson (Charles Gray) gets assassinated by a guy in a medical mask and hat whom I'm sure calls himself the Crime Doctor. Bond kills the assassin and steals his mask, gaining access to the industrial headquarters of Osato Chemicals. There, he has a great fight with Samoan pro-wrestler Peter Fanen Maivia, grandfather of Dwayne "The Rock" Johnson, and discovers Osato Chemicals is manufacturing rocket fuel for the Capsule Snatcher. With this, Bond and Tanaka have all the information they need to work their way to the climax. Then the film could be thirty minutes shorter…like Dr. No.
But then we wouldn't get to see Little Nellie or her father, Q (still Desmond Llewelyn). The gyroplane's one of those gadgets you know has to be real because it  looks too damn silly to be a prop. It gives the film an excuse to pad itself out with sweeping helicopter shots of the scenic, Japanese coast. By this point, the entire production could afford to take helicopter rides everywhere, so why not put that in the film while they were at it?
There's a lot of travelogue padding in this movie. It's entire middle-third (from the helicopter chase to the point where Bond and Mie Hama discover the volcano hideout's entrance) could be excised without danger of loosing anything crucial. I wouldn't even bother talking about this part if it weren't so hilarious.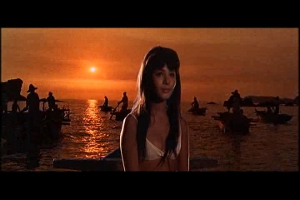 After introducing him to the ninja army, Tiger Tanaka decides to sneak Bond into the fishing village at the base of the SPECTRE's volcano/rocket base. The best way to do this, according to Tiger, involves disguising Bond as a Japanese fisherman, complete with fake marriage ceremony to another of Tiger's hot female agents. Because what could be more inconspicuous than a six-foot-two Scotsman with a bad wig and worse fake eyelids marrying Madame X (a much better role for Mie Hama in a much "siller" movie)? He couldn't be…oh, I don't know…a tourist…or a foreign business man out to expand into the sticks. It's not like those were crawling all over Japan during this decade, looking to buy up whatever wasn't nailed down and exploit it…
Oh, wait: actually, it's a lot like that. Want to know what's even crazier? This is one of the few elements of the original novel that made it to screen. By all accounts, Fleming's book is even more of a travelogue than this, with Bond wandering the countryside as he recovers from the events of On Her Majesty's Secret Service. Bond's Japanese-face "disguise" fools everyone, up to and including Blofeld, who has a castle down by the seacoast, where only a gaijin would be stupid enough to build one. Hence the volcano hideout, which is both more fortified and more practical for the local environment. If a typhoon washed away SPECTRE's Evil Lair they'd be the laughing stock of Asia, if not the entire underworld.
So after their wedding ceremony, the death of Aki, and some faffing around, Bond and Kissy find the volcano hideout by pure chance. They just happen to be laying on the grass, shooting the shit, when a SPECTRE helicopter flies over and points them right to helipad. All that running around, infiltrating Osato Chemicals, coming back the next day to meet Mr. Osato (Teru Shimada) and rub the whole thing in his face, the whole Little Nellie sequence, Bond turning Japanese…all pointless. When people tell you about how the middle of this movie feels "hollow" or "empty," this is what they're talking about.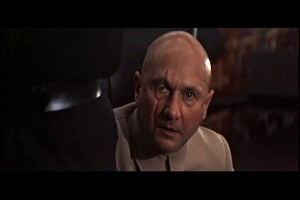 And speaking of hollow…don't get me wrong, I love the volcano launchpad. It's one of the greatest sets ever seen in an action movie, and director Lewis Gilbert uses it all to full effect in the still-stunning-to-this-day climactic battle. No problems there.
I have a serious problem with the people who inhabit that volcano, starting with SPECTRE #1, Ernst Stafvo Blofeld (Donald Pleasence). His plan to cause World War III is…alright, I guess…I've read tales of World War III almost happening for dumber reasons…and I've seen the movie World War III, which is even dumber still…but I question how this fits in with SPECTRE's mission statement, it's overall modus operandi?
The Counterintelligence and Terrorism elements of the plan are obvious, but is starting WWIII meant as Revenge? Upon whom? The Superpowers? For what…? If the answer's "thwarting SPECTRE's plans" then they have no one but Bond to blame for that (as far as we've seen.) And where's the Extortion? Are they Extorting money from Chinese to finance all this? If so, where do they plan on spending it? What bank's solvent enough to survive Judgement Day? CreditSkynet?
Beyond that, Donald Pleasence is ultimately underwhelming as Blofeld, and after two film's worth of build up, that's just sad. Like Dr. No, Blofeld spends most of the movie with his back to the camera, letting his voice and his piranha tank speak for him. Unfortunately, Pleasence doesn't have the pipes to compete with Joseph Wiseman booming tones or Eric Pohlmann's downright evil timbre. Of all the dubbed actors in this film, they let Pleasence use his natural voice…and I can't help but imagine him ranting at a small town sheriff about the evil behind Michael Myers' eyes. I'm sorry. That really is my fault. The fact that everyone in this film towers over Pleasence, especially Connery, is God's fault if it's anyone's. But Bond's already faced (and bested) Dr. No v. 2.0…his name was Auric Goldfinger, and he topped off his henchman army with  an all-girl squad of stunt pilots. Blofeld's just not that cool. He seems content to hire clones of previous series antagonists. There's his blond Grant rip-off of a bodyguard (Ronald Rich) and his poor supervillain's Fiona Volpe, Helga Brandt (Karin Dor). Hell, if Peter Maivia had more screen time, I'd call him "a hat-less Oddjob." The piranha tank's nowhere near as impressive as Largo's Shark Pool…and so on, and so forth…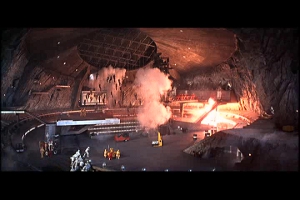 But lest you think I'm completely negative, I'm going to heap all my praise down here at the end, long past the point where trolls cease reading. Lewis Gilbert is obviously awesome for coordinating this unholy mess and shooting it coherently. The movie's climactic SPECTRE vs. Ninja action sequence says all that needs to be said about his skills. It may very well be the best climactic action sequence in the entire Bond franchise. It's certainly the most fun I've had since the end of Goldfinger, hampered only by the lack of a good final fight for Bond (the Grant Clone doesn't count) and the fact Blofeld is dumb enough to not shoot Bond when he has the chance.
I did like that Blofeld's smart enough to recognize Bond on sight. And the way Freddie Young's cinematography makes all the colors in this movie pop. I liked John Barry's music, Peter Hunt's editing, and I can't praise Ken Adam enough. Despite all that, there are two things in the movie I absolutely can't stand: it's lackluster, made-to-order script…and Connery's first-of-many "final" turns as Bond.
By this point, our boy Sean was the one of the biggest stars in the world, and getting mighty sick of it. Walking down streets became impossible, no matter what country he flew to, and the fear of being typecast weighed heavily on his Old School Actor mind. Besides, Bond was a static empowerment fantasy with no real character to speak of after four-and-a-half films worth of opportunity wasted on set-piece battles and supermodels. Legend has it he kept demanding higher salaries from Eon Productions in the hopes they would eventually say, "It's been fun, but don't let the door hit ya where the Good Lord split ya." When they refused to do this, Connery publicly announced this would be his last turn in the tux.
Ironic, then, that the next film in the series would do more to develop Bond's character than any of its five prequels. To this day I wish Connery had stuck around for one last swan song. Bond fans could've avoided a whole lot of heartache and maybe Connery could've turned in a "final" Bond film that broke from formula…if only a little bit. As it is, You Only Live Twice is a beautiful mess, with more beauty and less mess than Thunderball. Slight improvements are still improvements.