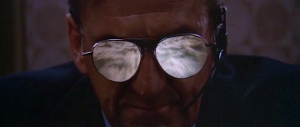 If you were alive on planet Earth in 1993, you probably found yourself face-to-face with the work of Michael Crichton. He was fifty-one by that point, and a multiple New York Times bestselling author with a shelf's worth of fiction and non-fiction to his name. Most didn't bother looking at them, but some of us did, and through them we learned Jurassic Park was the end point of a thought-line that runs through Crichton's whole career, possibly his entire life.
To tease that thought-line out, it's best we step back into the shoes of a thirty-one-year-old Crichton as he attempted to become a full-time filmmaker. It's 1973, and Crichton's last two books are doing well, though nowhere near as well as his first real success, The Andromeda Strain. Published in '69 and made into a movie two years later, Strain contains the seeds of Crichton's literary obsessions…though neither book nor film are as thrilling as they think are.
Which is probably why his next book, Binary, reads more like an episode of CSI than as an actual Michael Crichton novel (and since it was the last one he published under a pseudonym, that kinda fits). Police procedurals always sell, especially when they can wow the audience with all that fun, new forensic technology modern cops (supposedly) get to play with these days. So Binary became a made-for-TV movie, re-titled Pursuit, with Circhton himself directing.
Having proven his chops, Crichton began shopping scripts around Hollywood, including an idea inspired by Disneyland's Pirates of the Caribbean ride and its "impressive" anamatronic characters. Combining his love for the technological underpinnings of modern life with his love for kick ass movies, Crichton came up with Westworld and – through some no doubt-arcane magic – convinced MGM to let him direct it with what certainly looks like minimal supervision. Name another SF author who can say the same thing?
The result is a strange movie – simultaneously innovative and retrograde – that you can appreciate on a lot of levels. At base, it's a straight-up Western. Above that, it's a low-key buddy comedy. And above that, it's a sci-fi scare-fest. And above all that, it's keystone of Crichton's literary work. Not just because it deals with his primary storytelling obsession – the pathological failure of modern society's complex systems – but because it explicitly depicts the consequences of those failures in a way The Andromeda Strain couldn't, since its antagonist was a space virus. Here, the fundamental entropic principals of the universe have a name and a face. Luckily, for you The King and I fans out there, both belong to Yul Brynner.
Before we get there, we start off with another Crichton-trope: false documentation. The novel Jurassic Park (for example) starts off with a long-winded-but-still-abridged history of genetic engineering and the biotech companies that grew around it. In this case, we get an informercial for the Delos corporation, introducing us to Delos' futuristic theme parks: Medievalworld, Romanworld, and Westworld. Decked out in (the then-popular culture's prevailing notions of) period-specific décor and peopled by highly advanced robots, these parks promise all who enter "the vacation of tomorrow, today." Visitors are free to indulge their every whim, secure in the notion that "nothing can go wrong."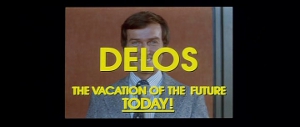 Two such visitors give us our in-road to this world: apparent best friends Peter Martin (Richard Benjamin) and John Blane (James Brolin). John's been here before, and so assumes an easy, know-it-all air that can become insufferable after awhile. This is Peter's first time, so he gets to be insufferable right from the off, peppering John with the kinds of questions hapless schlubs would ask on the hover-craft ride over. Thanks to way Crichton lingers on these two, the scene perfectly recreates the feeling of being trapped on a flight next to some asshole who just won't shut the fuck up.
Landing, John and Peter change into appropriate attire and integrate themselves into Westworld, with John being more successful than his friend, who feels "silly – like a joke." John's response is priceless:
"It's not a joke! It's an amusement park! All you have to do is have fun."
"Fun," in this case being defined as "drinking unlabled rot-gut whiskey, getting into random fights, and sleeping with robot whores in too-small, nineteenth century beds." Because whenever a new technology comes along the first question anyone asks is, "Can I fuck it?" Or you can out-draw the Yul Brynner-bot in a slow motion-assisted gun battle. Don't worry: the robots are programed to make sure you always win. After night falls on this day of Peter-mollifying merriment, the Delos Corp. elves come out of their control tunnels to clean up the robot bodies and ship them downstairs for repair.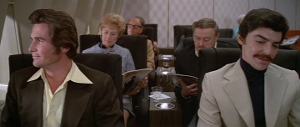 If you want to see a sci-fi movie with a real "documentary feel," look no further than this almost forty year-old Michael Crichton flick. These little asides in the control room will punctuate the main action from here on, and the camera becomes one of those roving eye-ball things Darth Maul had in the middle of The Phantom Menace: floating over technicians with handfuls of android guts; lingering on the eery sight of Yul Brynner-bot's unhinged faceplate; tracking the head technician as he pokes and prods his subordinates. "You get a confirmation before you open her up." "Yes, sir."
This is the reason Crichton became a novelist instead of a doctor. At some point during his rounds at Boston City Hospital, a younger version of Crichton looked up from whatever he was doing and saw this: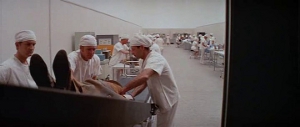 And in that moment something simple, basic and human in his mind recoiled, stunned by the horrifying banality of it all. He decided to share this vision with the world, almost always casting it as a vision of our future. The present is (usually) far more marketable when you dress it up in future-garb. But for all the random SF elements casually tossed into the background, for all his technical lectures (the long moments of silence in this film are perfectly designed for a scientific/historical aside) and one-note characters, there's a humanist core to Crichton's work that's so subtle most people don't bother noticing it. He spent his whole career trying to warn us this future has already come to pass. And we're living in it. Or at least trying to. It could very well gun us down in the street at any moment without thinking twice and that's so scary a thought, most of us turn away from it…giving this present-future the perfectly opportunity to bite us in the ass.
So it is with Our Heroes, Peter and John, who survive the Obligatory Bar Fight and spend the night on the floor. By now, both are fully into the spirit of Westworld. What better time for the androids to rise up against their human "guests"?
We never really know how or why the robots of Delos suddenly go mad. The programers and scientists behind the scenes talk of a virus spreading through the robot population, but its structure and origins are never explored. There's no Dennis Nedry in this movie. Most of the people in Crichton's early novels were well-meaning but useful idiots instead of active antagonists. The turning point (when Crichton took his first half-hearted stabs at creating "villains") probably came with either Congo or Sphere…though in Sphere, everyone's driven mad with power, so you could call all of them "antagonists" if you really wanted to get technical. (Spoiler alert for a twenty-five year-old book and fifteen-year-old film, neither of which are the strongest entries in their creator's catalogs.)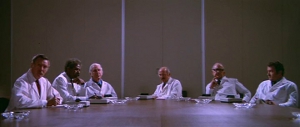 You could say the same thing happens here, only with less reality warping and more accidental suffocation. Before that, though, Crichton's careful to show us a scene where the technicians down below talk themselves out of recognizing the problem…or even out of the fact that a problem's occurring. After all, robots can't catch viruses…not like, real ones. After all, the use of the term "virus" to describe malicious, self-replicating computer programs had just entered the popular SF consciousness in 1969 and wouldn't escape its genre ghetto for another eleven years.
In the meantime, we see brief shots of the robot apocalypse going on in Romanworld, but Crichton's never really been interested in the nitty-gritty of robot-on-human (or anything-on-human, for that matter) violence. He had a clinical view of the human body and it's various bi-products, which tells you why his characters are all so forgettable…apart from the occasional Author Avatar. (Here's looking at you, Dr. Malcolm…and your damned gymnast children.) Peter and John come off as dudes playing cowboys, which is exactly what they are and exactly what they need to be…but that's pretty much all they do for the whole movie, one hesitantly (at first) and the other enthusiastically. This evil robot, on the other hand, is one cold bastard, and you can tell Crichton loved exploiting this concept to its fullest. I wouldn't call Brynner-bot a "character" per se, but Crichton's greater interest in filming "him" at the expense of the home-grown humans is more than evident. Inexplicably (if you're working off an Asimovian background, like yours truly), Brynner-bot seems to like toying with his prey, showing off and wasting ammo as only a Western badass can. Whoever programed him obviously loved The Magnificent Seven as much, if not more than, my parents.
Thanks to its SF trappings, Westworld's not often given credit for being both a functional Western and a send-up of Westerns in general. As with other writer/director luminaries of the 70s, Crichton grew up watching Western movies, serials, and now-classic TV shows. This is his cinematic love note to his own childhood, and it's telling he made this as soon as he got the opportunity (re: cash) to make it right. Every genre touchstone is here, from the whores to the gunfights to the Sheriff-killings to the jail breaks. And what to our wondering eyes should appear at the very end? A showdown between the Big Badass and the Kind-Hearted Tenderfoot, of course. John Ford would nod in stoic approval…at least until our Tenderfoot reaches the underground lab.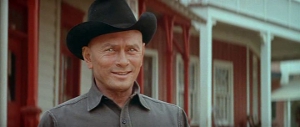 Even then it works because, clinician though he was, Crichton could also be a ruthless sum'bitch when the need arose. Exhibit A: the poor White Shirt Yul Brynner-bot catches in the desert and perforates from half a county away…because that's what he does. As human as he may look, he and all the robots of Delos lack the basic human ability to countermand his own programing. That's why they have remote control off-buttons…and those might've worked too, if it weren't for that meddling virus.
That virus represents any random element intruding upon humanity's best laid plans. The cautionary air to these tales is sometimes mistaken for technophobia, but I've grown to see it as a more straight-faced, if no-less-strident, warning. "Please," Crichton's stories beg us, "take a look around yourselves. Peep the vast, complicated, technological systems that underpin your life and lives of every human being on the planet. Check 'em and respect 'em, because learning shit is cool…and because those systems have no respect for you. Unless you pay attention, one of these days, you're going to wake up and find they're out for your blood."
That's the real message of his fiction and thanks to this, Crichton stories have a nasty habit of fading into each other. Being the oldest of his "mature" work, Westworld's suffered from a lack of attention. It deserves to be seen by all Crichton's fans and by SF fans in general. It's early 70s pacing will try the patience of nincompoops and its disinterest in human beings has left the actors high and dry. Thankfully, we're in the hands of a great cast, with some of the best leading men of the late-60s. None of them ever became the Marlon Brando they wanted to be,  and I'm sure certain people thought Yul Brynner's best years were behind him…but they were wrong. Everyone ran with it, had fun, and created a creepy-fun thrill ride through an under-appreciated classic from everyone involved…especially its writer/director.