Tag Archives: Vladek Sheybal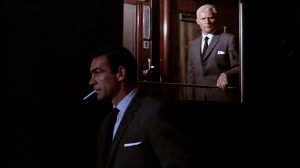 With Dr. No, Bond producers Harry Slatzman and Albert Brocoli turned one million dollars into sixty. The collision of good casting and good direction, along with enough sex appeal for most genders and orientations to get at least something out of the deal, created a sustained fusion reaction between the Cold War Era spy thriller and the kind of pulp adventures not seen (by self-conscious adults, scared their friends might think their entertainment "childish") since before the Second World War made everyone so serious.
The studio that backed Dr. No, United Artists, called for a sequel by October, 1963, handling EON Productions a whopping two million dollars to get the job done. Is it any surprise From Russia with Love went with the Bigger Is Better and More is More philosophy that's characterized Hollywood sequels from the very beginning? No. What's surprising is that it worked so well, when conventional wisdom would have it sequels inherently suck. Yet this remains many people's favorite James Bond films, including Sean Connery's, Daniel Craig's and Timothy Dalton's. Who am I to snark at it?