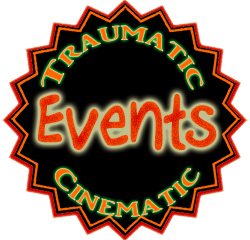 Seven days have passed and here we are once again offering you an update of pop culture of the last week. In this episode the Traumatic Trio continued their trek down the Road to Days of the Dead and have invited a haunter and costumer Nick Tyson to walk a couple of miles in their shit kickers. Tune in a find out what the NSA has been listening to, what DeMoss hates this week, and if Wickliff saved any lives. You too could be the next monster scaring children into the arms of religion and I believe Nick has helped show us the way.
"Apple users please subscribe to us on iTunes!" -Lewis
It has been an amazing week for The Traumatic Cinematic Show. We have given away a box of t-shirts to fans that interact with us (Our Facebook Group, Page, and Twitter) and had two winners of the contests we have hidden deep within special secrete shows. So far Corey Miller from3WizemanProductions and Tony Troxell @IndianaGeeking. Hopefully these two gentlemen will be sending us some pictures of them wearing their prizes (AND NOTHING ELSE!) There are still some golden tickets out there folks. They could be in old episodes, they could be in current episodes, one could be in today's episode?!
"Android users please use our RSS feed and never miss another episode!" –Mugumbo
Remember to check out all of our guest's hot spots of fun and calamity. Nick Tyson's main Facebook.com/n1tson andFacebook.com/TysonandHydeAsylum and check out the other Monsters Among You on Facebook.