Tag Archives: Tommy Lee Jones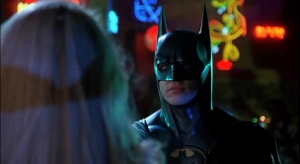 This is where I fell off the boat. I was twelve in 1995, when the Batman blitz began again, and from the start, things felt different. For one thing, I'd started paying attention to the news. This new thing called "the internet" was suddenly driving up everyone's phone bills, an instantaneous worldwide communication network that quickly became the ultimate gossip and pornography distribution system. And the gossip surrounding Batman Forever set all my Red Alerts ringing.
Everyone learned all the wrong lessons from Batman Returns. And I mean everyone. America's Moral Guardians learned that Tim Burton was a demented genius, something any of Burton fan could've told them a decade before, had the assholes bothered to ask. They complained his film was "too dark," that it had stained the eyes of their precious Children with twisted sexuality and Danny Devito's idiotic one-liners. Economics compelled Warner Brothers to Think of the Children and consign Burton to a Producer-in-name-only-credit (he was off making Mars Attacks).
Replacing him, Warner Brothers hired the director of 1993s Falling Down and 1994's smash hit, The Client: Joel…God help us all…Schumacher. And, true to his reputation as an all-around nice guy, not at all deserving of the jokes I'm about to make at his expense, Joel brought along The Client's writer: Akiva…fuck me running…Goldsman. Continue reading Batman Forever (1995) →