Tag Archives: Peter Weller
Part 4: More Comic Book History You Don't Care About But Need to Know in Order to Understand What the Hell's Going On in This Review: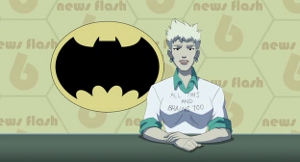 Since Warner Brothers insisted on adapting this story into two, one hour and twelve minute movies, I made a point of not revisiting The Dark Knight Returns, Part 1 in preparation for this review of Part Deux. If it'd been up to me, I would've adapting Frank Miller's four-issue story arc into one movie, and I might just edit these two together at some point, when I get some spare time. Even with everything here, it'd still be at least an hour shorter than the last two live action Bat-films. And make no mistake – the WB's straight-to-video animation department threw in a lot.
They had no choice.  These are adaptions of one of the best-loved Batman stories in history. Find me a Bat-writer and, with a little help from my friend Google, I'll probably be able to find you a choice quote about how 1986's Dark Knight Returns either got them into Batman in the first place, or brought them back after a period of apostasy. Current Batman/Superman writer Greg Pak just provided me a perfect example in this interview, dated February 27th, 2013:
I dropped out for a little bit, and I was still picking up indie comics like Cerebus and Usagi Yojimbo, but it was Batman that got me back into superhero comics when I was in college. Specifically it was Dark Knight Returns and Batman: Year One, which then led me to other stuff. It was basically Frank Miller who dragged me back in, and I was hooked. I was obsessed with Batman. Continue reading Batman: The Dark Knight Returns, Part 2 (2013) →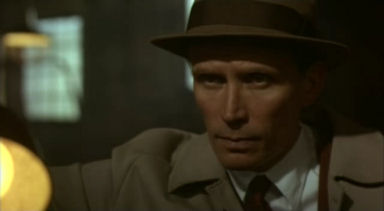 David Cronenberg's Naked Lunch is not William S. Burroughs' Naked Lunch and god only knows what the old gentlemen junkie made of this grotesque—where reptiles spill glycerin gel from the hollow tips of their vestigial head-tendrils—where fact and fiction recombine like RNA mixed in some unholy juice machine of a Canadian's mind. Hard to find a mind so filled with the temptations of the flesh. Flesh stretches and squelches and screams through the smoke nights of Vancouver lights in the sky pink shale colors of rail and light and tonight we find David Cronenberg's Naked Lunch. No more feeling than a crab's eye on a stalk.
This is a conscious pastiche—A love note to the dead—Dead and gone is Bill Burroughs—1914-1997—Fellow veteran of Missouri—Graduate, Harvard, Class of '36—Migrant to New York City in 1943 where he met a pair of Columbia University students named Allan Ginsberg and Jack Kerouac through their mutual friend, Lucien Carr—Carr went on to stab a man to death and dump his body in the Hudson river—Gray flannel suit floating down stream to wash up on a toxic New Jersey shore amidst the Devils and the Smog Monsters—And the Hippos Were Boiled in Their Tanks—Kerouac and Ginsberg enjoyed better fates, dying young, but famous, their names written across the sky—Generations of hobos, tramps, beatniks and hipsterfucks following in the suede shoe footsteps.