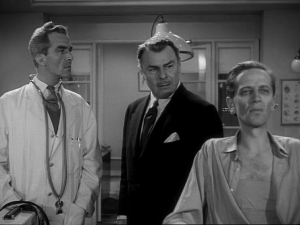 began life as a live, six-part TV serial that aired for consecutive Saturday nights on the BBC over the summer of 1953. By episode four, the serial became a national event. Unfortunately, contemporary recording methods were…less than adequate (British films make me polite) and only two episodes of the original serial survive…though the BBC did stage a remake for its fiftieth anniversary.
That they did so is all the testament this story ever needed. There's evidence this show doubled the number of TV-owning U.K. households all by itself, and the BBC immediately commissioned writer Nigel Kneale for a sequel. Needless to say, even back then, a movie was inevitable.
It only took two years thanks in part to the production company: Hammer Studios. Resurrected after its founders returned from service in World War II, Hammer quickly established itself as the go-to house for "quota quickies" – cheap movies, made fast and bought up by theater chains anxious to satisfy their requirements under the Cinematograph Films Act of 1927. Parliament originally hoped the Act would fertilize a bumper crop of upstanding, vertically-integrated, English film production company monopolies, like the ones that dominated Hollywood at the time…and still do today, for that matter.
Things didn't quite work out as planned. Continue reading The Quatermass Xperiment (1955) →