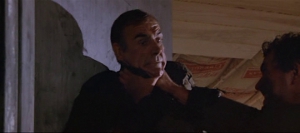 Once more with feeling…
In 1958, Ian Fleming was hard at work adapting his bestselling Bond novels to the silver screen. After a disastrous relationship with the CBS anthology show Climax birthed a (largely, outside of Bond fandom) forgotten adaption of Casino Royale (now known as Casino Royale-no-not-that-one), Fleming teamed with producer Kevin McClory and screenwriter Jack Whittingham to develop an original Bond adventure. When that fell apart in 1961, Fleming took his toys home and turned them into the ninth Bond novel, Thunderball…without crediting McClory or Whittingham. They promptly – and quite rightly – sued, beginning a legal battle so protracted it prevented Thunderball from being the first Bond film. McClory and Whittingham eventually won the right to have their names attached to the story and any movies resulting from it, as we saw in Thunderball's opening credits. McClory also retained the rights to remake Thunderball after either ten or twelve (sources vary) years.
So far, so good. But after Thunderball paved the way for three more Bond adventures, McClory started demanding rights, not just to the story he worked on, but to every idea developed for that story – including SPECTRE and its leader, Ernst Stavro Blofeld. That's why Bond's "Arch Nemesis" basically disappeared from the series with Sean Connery, after Diamonds Are Forever and was unceremoniously killed off at the start of For Your Eyes Only.

Having finally rebuilt what he always viewed as his toy collection, McClory set out to remake Thunderball with a little help from Orion Pictures…a company that would go on to release some of the most influential films of the the 1980s (The Terminator, RoboCop, Bill and Ted's Excellent Adventure) and 90s (Silence of the Lambs, Dances with Wolves, Bill and Ted's Bogus Journey), until its sale to MGM in '98. Of course, Orion also let fly some of the stinkiest crap those decades had to offer, so this film really could've gone either way…but it eventually went to crap. Continue reading Never Say Never Again (1983) →