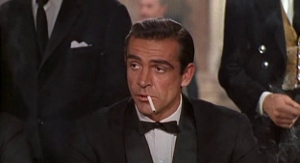 Grab your nearest bottle of Lafite Rothschild '62 because, on top of everything else going on and despite the apparent superiority of the Rothschild 63, this year – 2012 – marks  the fiftieth anniversary of James Bond's debut on film.
Not that this is Bond's true film debut. Oh, no. The story of his cinematic birth wouldn't be nearly as interesting if it were. In 1954, a TV movie version of Ian Fleming's first Bond novel, Casino Royale, premiered on the CBS anthology series Climax! to…pretty pathetic results, really. Far as I'm concerned, the best thing about that Casino Royale was its score, written by a twenty-five year-old ex-typist named Jerry Goldsmith.
It sounds like Fleming always wanted to export his secret agent superhero to flickering image-based mediums. But Fleming, like a lot of other writers at the dawn of the TV era, inked a lot of bad deals with a lot of shady operators who preferred squatting on film rights to actually making movies. One of these was the Canadian producer Harry Saltzman, a man of (up 'til then) modest success who hoped to make it big…and saw his chance when his screenwriter friend Wolf Mankowitz introduced him to American producer Albert R. Broccoli. Know as "Cubby" to his friends.
Together, Saltzman and Broccoli formed the holding company Danjaq (a portmanteau of their wives' first names) as a storehouse of Bond's trademarks. Danjaq's subsidiary, EON Productions, would do the work of actually making films. Thunderball was to be the first, since it began life specifically as a screenplay…but Fleming grew impatient and eventually turn it into the ninth Bond novel…without crediting his co-screenwriters. This situation quickly escalated into a lawsuit, forcing Saltzman and Broccoli to change course. They chose the sixth in the series, Dr. No, for adaption, and here we are, fifty years later. Continue reading Dr. No (1962) →