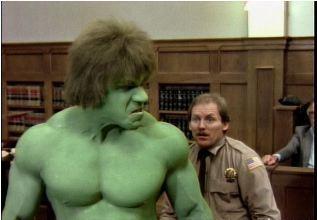 Short and sweet version:
The defining, stand out scene of this whole movie (the one we all get our pictures from) turns out to be a dream sequence.
Long and painful version:
Remember when I called The Incredible Hulk Returns "a fine capstone" to the series? Well, that was the truth. It's unfortunate no one at NBC realized this in time. Not very surprising, though. Happens everywhere. A decent little picture miraculously becomes popular (popular enough to snatch the fifth highest rating of any program aired in the same week) only to be sullied by a lackluster, assembly-line sequel.
Hot off the success of Returns, NBC rushed to make a deal with Marvel for future Incredible Hulk outings. And, wouldn't you know it, less than a year later Trial of the Incredible Hulk roared and flexed its way to prime time. And as the talking head said on the news, right before the aliens blew up all those cities, "Indeed, God help us all." {More}