Tag Archives: Dee Bradley Baker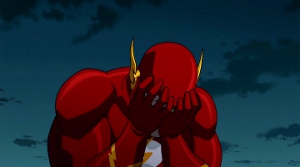 As I said in the Superman Unbound review, DC Comics uber-writer Geoff Johns got his job thanks to his love of those first two live-action Superman films (and The Goonies). Because of this, he talked himself into a  job playing step-n-fetch-it for director Richard Donner. Because of this, young Geoff found time to make some friends at DC Comics while he and Donner were in New York, working on that Mel Gibson-led X-Files rip-off no one remembers anymore, Conspiracy Theory.
Within a few months, former Superman writer (now DC Group Editor) Eddie Berganza secured Johns a job penning Justice Society of America. "Written" at the time (though some of us suspected it was "written in name only") by Notable Hollywood Screenwriter David S. Goyer, JSA evolved, under Johns tenure, into an occasionally-quite-nice microcosm of its home universe. While the modern Justice League is usually composed of characters with true cultural clout, instantly recognizable to even the least-literate among us, JSA thrived by combining characters from comic's Golden Age with impetuous youngsters either inspired by their example or straight-up continuing some poor dead person's legacy.
That's the thing I've always liked about the DC Universe: a meta-textual awareness of its own history. Unlike Marvel Comics, where all roads lead back to Captain America and everything else gets shunted a decade or so down the time stream by Editorial Fiat whenever continuity headaches become epidemic, DC's heroes come in distinct, generational blocks. The Old Guard started putting on masks and punching bad guys at some point in the mid-1920s. They did it for their own reasons, came together for World War II, and then drifted apart again for other reasons no writer seems interested in addressing, save obliquely, through peeks at Wacky Alternate Dimensions (like the Watchmen universe, which outlawed masked heroics in the 70s with its Keene Act). The New Guard of the "perma-modern" world, usually beginning with Superman, chose to go the "thong-and-blanket" route partially because of that preexisting heroic tradition. This adds historical depth to DC's fictional world while eliminating the need for any one character to bare the full weight of being "the world's first super-hero" (though Superman's usually handed that title by sympathetic friends in the media). Continue reading Justice League: The Flashpoint Paradox (2013) →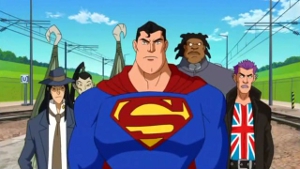 Whenever I get sick of dealing with live action superhero films and the all-but-inevitable disappointment that entails, I look to animation and shout, "Save me." Specifically Warner Brothers, who've looked down and whispered "No," more times than not. That's what happens when the marking department dictates what we'll get, and when. Given there's a new (live action) Superman movie in production at the time of this writing, here comes the latest animated one, Superman vs. The Elite. Will it rescue us from the crushing mediocrity of things like Justice League: Doom or Batman: Year One? Or will it become what it hates in the name of The Greater Good?
Oh hell, you guys know me, I can't keep a secret. Not only is it better than Doom and Year One, it's the second best piece of Superman animation we've seen since the cancellation of his last cartoon series…the first being All-Star Superman, of course.
Not that you could tell from the fan reactions. The happy few who stoop to view animated features might be shocked to learn this, but some of my fellow Superfans found All-Star wanting. Few outright hate it, but it's still a too-short adaption of an twelve issue miniseries, large chunks of which were excised to fit the marketing-mandated 76-minute run time. If you want to "premiere" your film on the Cartoon Network, seventy-six minutes is the perfect length. But as I've been saying for five damn years (at this point) arbitrary length restrictions won't make your film any better. If the WB wanted to do that they'd tell Cartoon Network's ad-buyers to fuck themselves and make something feature length. It's not the 40s anymore, guys. You can have a Third Act that isn't rushed. Continue reading Superman vs. The Elite (2012) →