Tag Archives: Arthur Rankin Jr.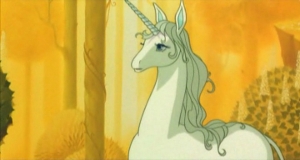 Here's something else from the Things That Scarred Me in Childhood Department. Keep your Disney and your Dreamworks. Screw Pixar and, apart from the teams responsible for Animaniacs and Batman: The Animated Series, screw Warner Brothers animation too. In my eyes, none of them are fit to lick the boots of Rankin/Bass Productions.
Originally formed in the early 1960s, the studio achieved lasting fame with a little 1964 stop-motion Christmas special/gigantic commercial for General Electric called Rudolph The Red Nosed Reindeer. Over the next decade, Rankin/Bass churned out Christmas scholck like clockwork, and their most famous specials (Rudolph, Santa Claus is Coming to Town, Frosty the Snowman) are still in syndication today. The secret to their success was outsourcing, making Rankin/Bass one of the earliest American companies to exploit the third world for their own gain.
Thankfully, at the time, "the third world" pretty much included Japan. So when Rankin/Bass began to branch out into more traditional cartoon fare it found a ready partner in future-House of Dragonball Toei Animation. This partnership produced a crop of feature-length cartoons still remembered by all the good little children of the 70s and 80s…because they scared the shit out of us. Continue reading The Last Unicorn (1982) →