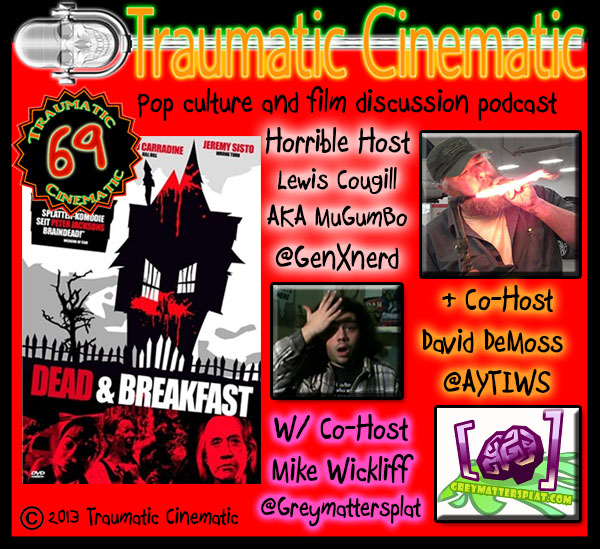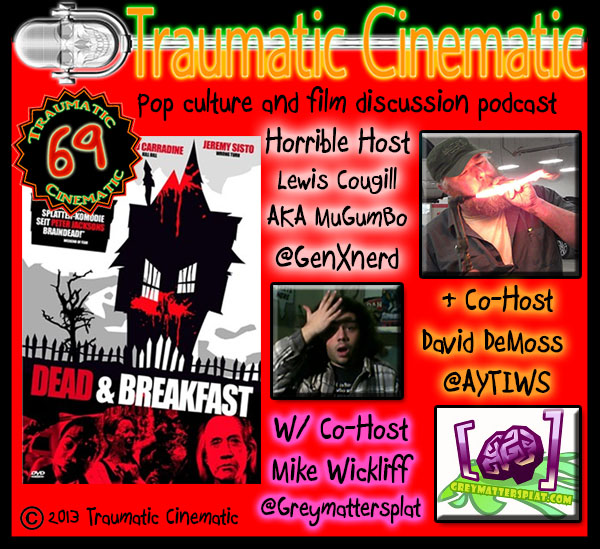 "I've heard complaints… but I can't remember what they were about" –MuGumBo
Sometimes the film you bought on a whim from the Wal-Mart bargain bin turns out to be a hidden treasure. You know you have something special but you can't know just how special unless you share it with others. That is the story of this weeks film folks. No "Universal or Disney" media engine behind this title pouring millions into distribution and advertising. Nope the only thing that attracted me to Dead and Breakfast was its title, cheap price, and cover. I found it years ago and have shared it with many many people. Now I have shared it with the TCPodcast crew and hopefully with those of you at home. Witty hip-hop narration wrapped tight with a tongue in cheek humor drives this modern zombie flick into future cult status.
Podcast: Play in new window | Download | Embed
Don't forget to subscribe to us on iTunes! 
Subscribe to us on iTunes- 
https://itunes.apple.com/us/podcast/traumatic-cinematic/id627457917
Subscribe to our RSS feed- 
http://feeds.feedburner.com/TraumaticCinematic
Listen on Spreaker- 
http://www.spreaker.com/user/traumaticcinematic
We are on Stitcher- 
http://app.stitcher.com/browse/feed/22875/episodes
Like our logo? Well you can show it off by purchasing a shirt or phone case from our store! 
Traumatic Cinematic Store!
Ways to interact-
There is nothing we want more than to hear your opinion (good or bad) on our show and reviews. There is multiple ways to interact with the Traumatic Cinematic trio. The Shows Twitter- @
TCPodcastCrew
We have a Facebook Group- 
http://www.facebook.com/groups/TraumaticCinematic/
Our Facebook Page- 
http://facebook.com/TraumaticCinematic
Email us- 
TraumaticCinematic@gmail.com
MuGumBo (Lewis R. Cougill)
Twitter @
GenXnerd
Website- 
http://GenXnerd.com
, 
http://Twitflix.net
, 
http://TraumaticCinematic.com
, and MANY MANY MORE.
David DeMoss
Twitter @
AYTIWS
Website- And You Thought it Was Safe?| You're there.|  
Mike Wickliff
Twitter @
Greymattersplat