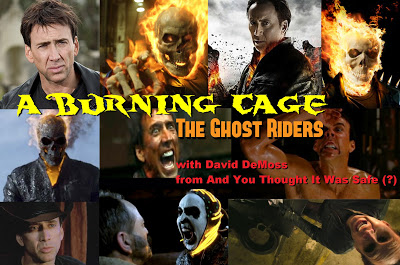 Due to my own foolish hubris, I once again stepped through the glass doors of the After Movie Diner to discuss Ghost Rider with host (and Devil's bounty hunter) Jon Cross. Specifically, the two pathetic thalidomide babies that pass for Ghost Rider films, though, me being me, I do bring up some comic book history no one else will care about for the sake of my beloved context. Listen as we speak past each other like characters in a DeLillo novel, marvel at the shortsighted stupidity of 20th Century Fox and desperately search something, anything, else to talk about before differing opinions of Spirit of Vengeance expose a vast gulf in our critical philosophies.
Download the episode here (left click to listen, right click, "save target/link as" to download MP3
Also, be sure to check out Jon's movie commentary podcast, Dr. Action and the Kick-Ass Kid, wherein Jon and the titular Doctor talk over the action movies others fear to watch. (I'd just as soon blow my brains out as watch Masters of the Universe again, for example.) And then there's Jon's other, monthly, slightly-more-within-our-wheelhouse podcast, The B-Movie Bargain Bin, where Jon and Mike Murphy of the Badasses, Boobs and Body Counts podcast search for the Best Worst Movie ever made (despite the fact No Retreat No Surrender already exists, rendering such a quest fruitless).