by Chad Denton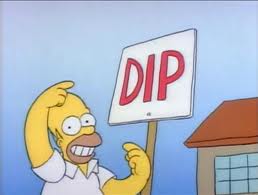 Well, it didn't take them that long before they made a reference to the Odyssey.  
Now I did say that I didn't want these write-ups to be "reviews" in the strict sense, mostly because I'm more interested in exploring The Simpsons as a cultural phenomenon (but also because I think I suck at reviewing comedy, although in my defense it is one of the hardest elements of entertainment to explain).  However, I should say off the bat that this episode was strange to watch, because – even more so than with the last two episodes of the first season – the jokes were few and far between.  I should add right away that I think this was deliberate, and in a lot of ways the whole episode felt like more of a quasi-dramatic American sitcom than any I've watched yet, just with the occasional touches of the surreal made possible by the wonderful possibilities of animation.  In fact, "Homer's Odyssey" is interesting to watch just because it contains within it a couple of potential "alternate universe" Simpsons series "in utero" – one that had a more realistic and even a dramatic bent, and one that would have been a working-class comedy like Roseanne except centered around a lazy but well-meaning father instead of a hard-working but cynical mother.
"Homer's Odyssey" gives the viewer a familiar site:  Homer goofing off at work to the point that he causes a hazardous accident right in front of Bart and his class during a field trip.  From there, though, it's strange waters.  Homer doesn't launch a zany scheme or a bizarre career change;  instead he's so depressed that he's failed the family and that Marge had to return to her job as a rollerskating waitress that he plans to commit suicide (although he intends to do so in simultaneously the most impractical, hilarious, and painful way imaginable).   When Marge and the kids rush to save him from a watery grave, Homer ends up rescuing them from a dangerous intersection.  This launches him into a crusade to get the town council to set up a stop sign at the intersection, which they do casually and with great apathy, but that doesn't stop Homer from taking it as a life-affirming triumph.  From then on, Homer dedicates himself as Springfield's number one safety advocate, finally leading him to confront his former employers at the nuclear power plant.  Mr. Burns gives Homer the diabolical choice of either remaining an unemployed and broke hero of principle or accepting a paying job as the nuclear plant's chief safety inspector which would nonetheless force Homer to betray his newfound principles.  Much of his own surprise, Homer is stunned by the ethical dilemma, but decides to accept on the rationale that he could actually be a force for safety competence at the plant (which is not what happens in the slightest, but I digress).