by Chad Denton
So I realized that I do, in fact, own the first ten seasons of "The Simpsons," which is one season plus what I consider to be the show's "golden age." Also I realized that I had actually been with the show all through that era, beginning with "Simpsons Roasting On An Open Fire." Because I can never lack excuses to waste valuable timebuild up my writing portfolio, I thought I could start doing what I've been doing with "Doctor Who" and just reflect on the episodes – what made them work and why I was in love with the show for so long.
So without further Apu (rimshot)…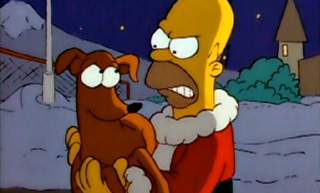 "The Simpsons" are the Beatles of my generation.
Honestly, I don't think that's hyperbole or pop culture blasphemy. More than a TV show, it was a cultural event that, on one level, was just generating the usual wrong-headed and easy-way imitators, cheesy music videos, and shitty video games (I think trying to get through "Bart vs. The Space Mutants" was a rite of passage for anyone who was a kid and owned a Nintendo in the early '90s), but on another level it molded the way an entire generation thought about animation, social satire, and even humor itself. Like it's impossible to imagine a world where Archduke Ferdinand was never assassinated or what rock music after 1990 would have sounded like if Black Francis and Joey Santiago were never dorm mates at the University of Massachusetts-Amherst, a contemporary American cultural landscape where Matt Groening was never commissioned to produce cartoon bumpers for the "Tracey Ullman Show" is likewise beyond our comprehension.