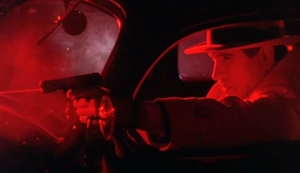 Most people have no idea how their movies are made, lacking even the faintest clue as how much of a Hell on Earth the process can become…especially once money's involved. Throw in a well-known "property" (Hollywood-ese for an "idea"), a multibillion dollar movie studio, and a legend-in-his-own-time actor/director known for ball-busting levels of perfectionism and the irresistible compulsion to sexually harass anything that walks by him with breasts…and welcome to the Ninth Circle of Development Hell. Pull up a pot of boiling pitch and stay yourself awhile.
It took a little-known Tim Burton film called Batman to break the logjam between Disney, who put up the money (and own the film through their subsidiary, Touchstone Pictures), Tribune Media, who owned the idea, and legend-in-his-own-mind Warren Beatty, who secured the chance to direct himself in the lead role as every self-styled tough guy's ultimate author-insertion fantasy persona, a man appropriately named Dick.
Plenty of people enjoy the Dick Tracy's long-running comic book series. I'm not one of them, but there's no denying its creator, Chester Gould's contributions to the medium of comics. He transplanted the hard-boiled aesthetics of gangster films into a medium dominated (at the time) by housewives, washed-up prizefighters, and smart-ass kids. Seven years before Superman, Gould created a stalwart hero that stood for everything Right, True, and Just – a defender of the American Way. Eight years before Batman began his crusade against crime, Gould produced a pantheon of gimmicky, one-name villains to keep his hero busy. Many of them were grotesque to the point of caricature, their exteriors warped with little regard for anatomical concerns by their own interior ee-vil.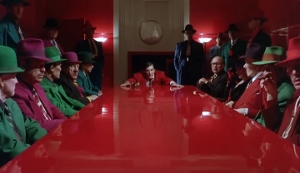 With this, as Batman's creators would eventually learn, Gould set himself a trap, making his villains potentially much more interesting than his hero. In one sense, Dick Tracy-the-film is an attempt to walk back from that, centering itself (almost) exclusively around Dick and his supporting cast of Odious Comic Relief.
The film opens with one such – a street urchin known (for most of the film) only as The Kid (Charlie Korsmo). After ducking into one of the many, many, many anonymous garages dotting this City, The Kid witnesses a gangland murder. He runs afoul of legendary police detective Dick Tracy after he just so happens to steal a watch from someone at the diner Tracy just so happens to frequent on his way home from The Station.
After beating The Kid's Dickensian father figure down, Tracy pawns The Kid off on Tess Trueheart (Glenne Headly), Tracy's loyal Designated Love Interest and doorstop. After all, somewhere there is a crime happening…and given the thin veneer of 1930s Chicago overlaying this hyper-stylized universe, you can bet your ass there's an ee-vil crime boss behind it all.
Alphonse "Big Boy" Caprice (Al Pacino) will be that crime boss for the remainder of the picture: a shouty, hunch-backed, one-note excuse for Pacino to overact. (As if he's ever really needed that.) Big Boy's on a mission to subsume The City's criminal gangs into one organization – his. We first meet him as he orders the death of local night club impresario Lips Manlis (Paul Sorvino) and makes off with Manlis' girl/star attraction, the wonderfully-named Breathless Mahoney (Madonna).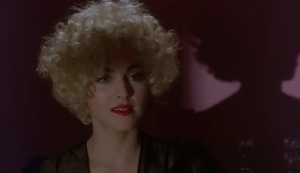 Big Boy's on-going war of attrition against Tracy forms the film's laughably-thin excuse for a plot. Later on there's a bit featuring the character Steve Ditko unabashedly ripped-off when he created The Question, but that's all secondary to the film's real focus: a flaccid, predictable love triangle involving The Hero, the Good Girl and the Feme Fatal. What a dee-lightful surprise. Never seen one of those before.
Thanks to a lifetime spent watching Bond films, I've developed a healthy and natural fear of blonds in slinky black dresses. If you're a legendary police detective sworn to uphold The Law such women bring nothing but sad tidings…especially when they neglect to don underpants before they leave the house. After Tracy arrests Big Boy for the murder of Lips Manlis, Breathless takes an instant shinning to Dick…because that's just what people do in this universe. (Unless, of course, they're Criminals, in which case they cower and hiss, the way vampires used to whenever you flash them with a cross.) He wants her to testify; she wants in on his pants. This sets up a bevy of scenes where Dick tries (and fails) to thread the needle between the two. He takes advantage of Tess' Brobdingnagian patience. He absorbs Breathless' endless supply of come-ons. He gets kidnapped. The Kid saves him. He arrests someone. They refuse to turn on Big Boy. Lather, rinse, repeat for an hour and forty-five.
Chester Gould originally conceived all this as a comic book rendering of the Chicago he saw when he first became a cartoonist for the Tribune in 1931. So Dick's our Elliott Ness, Big Boy's our Al Capone, and if Beaty were Brian De Palma this could all be The Untouchables. He's not, preferring static shots to Steadycam tracks, creative editing, and a retro feel that intentionally hearkens back to the German Expressionist and American gangster movies created around the time Tracy achieved his first big wave of popularity.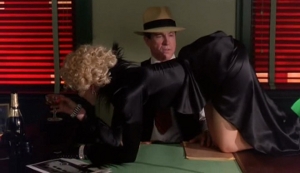 All of which is noble in spirit but leaden in pace and dull as hell in its execution.
It's a problem of character. Al Capone's idea of fun included laying out a banquet for his enemies before he tied them to their chairs beat them to death with a baseball bat. Al Pacino lacks the personal touch you need to really put the fear into a crime syndicate, especially when all your foot soldiers are mooks, mugs, and idiots. He mistakes volume for menace, which might've worked on-set, where the actor's personal charisma and physical presence could subconsciously work on the minds of his audience. Thanks to the distancing effects of film, Pacino's Big Boy ends up looking like a screaming putz – a mad man with a mouth so big I'm amazing he survived adolescence without catching a double-tap to the back of the head.
I suppose this is why everyone "misunderestimated" Hitler: Awww, honey, look at the cute little, shouty man. Isn't his impotent rage just to die for? And that little mustache is just so cute. No, dear. It's really not. Glenne Headly, now…there's cute for ya. (Redheads, man…raaow.) Especially since her hair is color coordinated with every other shade of red in Dick Tracy's world.
No bones about it: the film's production design is unique to the point of having never been truly been equaled, not even by the most colorfully audacious superhero productions of the 2000s. There are only seven colors in the entire film, allowing the bright, garish foregrounds to (almost) seamlessly blend with the matte painting background…and there's a joke in there somewhere about the city's population as a whole being whiter than Ward Cleaver's secret cocaine stash. The entire thing – right down to the sappy melodrama that goes exactly where you'd expect it to go and takes its own sweet goddamn montage-heavy time – feels like a protracted love note to a comic book that obviously changed someone's life.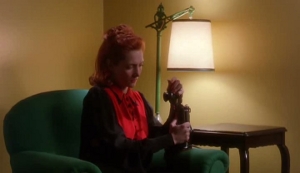 I guess it's okay, if you like this sort of thing…or if you have some medical condition that can only be cured by staring at Warren Beatty's face…but honestly, there's a reason Tracy earned his reputation as a classic Cop who Doesn't Play By the Rules. Like Dr. King's arc of history, Tracy always bends toward justice. The Bad Guys in his world are Forever Evil, and the Good Guys (i.e., the three other cops who, with Tracy, seem to make up this City's entire plainclothes police force) while good, would have their asses handed to them by street thugs were it not for Dick. He's the one who sweats suspects. He's the department's brains, spinal column, and entire central nervous system. He's the one who trespasses onto private property for the sake of planting illegal listening devices.  He's the one who tosses the Letter of the Law into a big communal bonfire while his armies of yellow trench coat-wearing followers march about it shouted "Zeig heil!"
He's everything you'd expect from a man named Dick: honest, tough-minded, hard-fighting, quick-shooting. Professional to a fault, so wrapped up in his work cleaning the mean streets of Wherever This Is he can't even stammer out his true feelings for Tess by the film's end. And no, that is not a Spoiler, since the ending's obviously meant to set up an Inevitable Sequel and stalwart heroes who can't express themselves were already cliched by the time Achilles died. They're easy to write and, if you already believe yourself a tough guy, even easier to play on screen. But no matter how much I enjoy the calm, Professional Badass demeanor Beatty supplies, there's one millstone continually choking his performance: Dick Tracy is too good. Too upright. He walks right over the line between Stalwart Hero and One Dimensional Dick, and doesn't even have the courtesy to offer it its one phone call.
There's a reason why the Stalwart Hero fell on such sad times in the last half of the twentieth century: he's boring. Dress a concrete block in a yellow trench coat and it's garish color might be distracting, but eventually people are going to move on. Scratch the surface and you'll just find more surface…and get a lot of yellow under your fingernails. The makers of actual noir realized this, which is why all the best protagonists come across as either assholes or tortured antiheroes.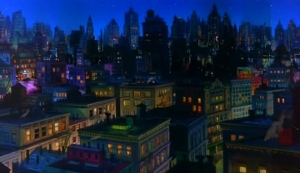 When he shortsightedly dismissed Batman Returns, Roger Ebert declared that "the very essence of noir is that there are no more heroes." Dick Tracy attempts to marinate noir films in a garish, comic book color scheme. The result, ironically enough, is too morally black-and-white to qualify as noir, and once the awe and wonder of the production design wears off the story's too route to excite. Actual noir detective movies avoid this by showing their heroes protagonists constant struggle against the illusionary moral absolutes this corrupted, dying culture of ours ceaselessly repeats. Dick is a moral absolute on legs, so his story is surprisingly drama-free…especially given the amount of shootouts, fist fights, and chances to bone Madonna that make up its moving parts. We know Dick's not going to take those chances… just like we know there's no chance he'll let The Kid get shipped off to that orphanage. (Pint-sized sidekicks don't grow on trees.) We know that, in the end, he'll be driven back into the sheltering arms of the Good Bond Girl, the status quo safely restored in time for his Next Adventure.
Faced with this inescapable knowledge, there's nothing to do but sit back and wait for the film to catch up to us. But if you like this sort of thing, have at it. You'll get plenty of Madonna vamping, plenty of Warren Beatty's face, and plenty of Al Pacino at full volume. Enjoy it while it lasts. At this point, Development Hell's denied us that Inevitable Sequel for neigh on twenty years. Frankly, I couldn't be happier.
At least Darkman still exists. That's how we know, not only that superheros and film noir can go together, but that the year 1990 wasn't a complete and total loss.