I knew this would happen, if for no other reason than that this is the eleventh motion picture in the Star Trek franchise/canon.
Good Trekies will know exactly what I mean by this broad, sweeping generalization. Ever since William Shatner ran Star Trek V into the ground odd-numbered entries in the series have always been looked upon with suspicion, if not outright derision. I suspect The Final Frontier is itself responsible for this prejudice, but no matter. Tonight's entry reaffirms its basis in fact, along with all of my worst expectations.
Star Trek begins on exactly the wrong foot by omitting even a pastiche of Jerry Goldsmith's opening music (saving that, paradoxically, for the end credits). Director J.J. Abrams steps even further into it with a long, vertigo-inducing pan across the bow of the U.S.S. Kelvin. This being sometime in the twenty-second century, the Kelvin is a lone Federation starship, no doubt on some five-year mission to blah-dee-blah-dee-blah. Said mission is interrupted by the appearance of what "looks like a lightning storm" in space. Unfortunately for everyone aboard, the storm disgorges a gigantic ship which easily overwhelms the Kelvin, kidnapping its captain and forcing all hands to the escape pods.
All, that is, save the XO—Lt. Commander George Kirk. In a meant-to-be-heart-wrenching scene, Kirk overhears the birth to his son, James Tiberius, on an outward-bound life pod. He's just enough time to tell his wife how much he loves her before his kamikaze run on the gigantic ship  reduces him to superheated gas.
And, yes, here's the infamous convertible scene, where in we see a pre-pubescent Kirk (Jimmy Bennett) trash his (stepfather's?) convertible. Nokia must've paid through every hole in their head for that two seconds of product placement. Somehow, I doubt Gene Roddenberry had a place for evil, wire-tapping, international telecommunications corporations in his optimistic vision of the future. They're certainly absent from mine.
Less well-known is the following scene, showing a pre-pubescent Spock (Jacob Kogan) reacting violently to the verbal abuse of his fully-Vulcan fellow-students. The proud Star Trek tradition of showcasing aliens who look, act, and speak exactly like humans, no matter their developmental stage, continues into the twenty-first century. Spock's father, Sarak (Ben Cross), tells his half-breed child "Spock, you are fully capable of your own destiny. The only question is: which path will you chose."
Any long-term fan will recognize this for the bullshit false choice that it is. Spock, the character, resolved this little identity crisis long ago (dying and coming back to life will put a lot of things in perspective—just ask Jesus, or Superman), finding the obvious answer in another question: why the hell can't I be both? The fact that one can be both, and so much more within the benevolent fascism of the United Federation of Planets, is one of Star Trek's implicit messages.
But nevermind that. Fast forward a few years. Finding a totally-illogical, speciesist prejudice even in the high halls of the Vulcan Science Academy, a more-adult Spock (now played by Heroes' Zachary Quinto) leaves to join Starfleet.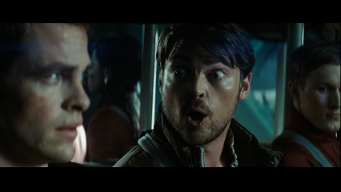 Back on Earth, Jim Kirk (now Teen Scream poster boy Chris Pine) hangs out, hits on a young Uhura (Zoe Saldana), and suffers a bar fight for his troubles. Only the intervention of Captain Christopher Pike (Bruce Greenwood) saves him from dying alone and unmourned in the suspiciously-California-looking fields of Iowa. Aboard the transport to Starfleet Academy, he meets a Kentucky doctor with more than a few phobias about space travel, name of Leonard McCoy (Karl Urban).
Three years later, we find Kirk cheating his way through the Kobaiashy Maru test, drawing the sublimated ire of one Commander Spock, who programmed it. Thankfully, the gargantuan ship that destroyed the Kelvin intervenes, staging an attack on Vulcan. With the rest of the fleet out taking a piss, it falls to the Academy's trainees to man the fleet's newest flagship, the U.S.S. Enterprise, in an ill-conceived attempt to counter this latest invasion of the Federation.
Plot contrivances and predictable "coincidences" work to bring the crew we all know and love together, compounded all the while by Kirk and Spock's perpetual dick-waving contest. This is a Buddy movie, and submits to all of that sub-genre's worst conventions: verbal sparing leading to physical one-upsmanship, leading to a one-scene reconciliation which (we're meant to infer) makes up for all the horrible things each participant has said and done to the other, allowing them to become fast friends.
All of which would be annoying enough even if I couldn't see the end of this story coming like fire from the clouds. It's two writers, Roberto Orci and Alex Kurtzman , keep the surprises to a minimum, secure in the knowledge that modern audiences will reward them for the most pedestrian of efforts. The few surprises they allow to slip through are just that: pedestrian, played for laughs that inspire only groans from this long-suffering critic. In one scene, McCoy injects Kirk with a vaccine that reduces him to a stumble-bum, the better to sneak Kirk aboard ship under medical regs. In another meant-to-be gut-buster, a young Montgomery Scott (Simon Pegg) winds up stranded inside a series of tubes thanks to that best of all possible Star Trek cliches: the transporter accident. Sulu (John Cho) utilizes his fencing (re: movie sword-fighting) skill. An enthusiastic Red Shirt dies and it's all in good fun. Har, har, har.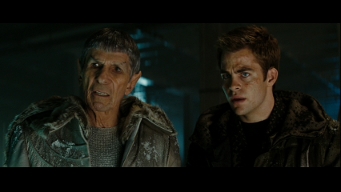 Even I have to give the filmmakers props for a few key things, including the one "surprise" that actually works in this film's favor: Leonard Nemoy's appearance as Spock Of the Future. His inclusion in the proceedings is the one good idea in an otherwise uneven patchwork of a script. Seeing his face, hearing his voice—simply watching the man work in a role he not only made, but defined—after an hour of staring at all these Hot Young People, is a breath of fresh air. The best scene in the film comes near the end, when the two Spock's meet at last, showcasing what this film might have been were it crafted by the hands of artists rather than bean counters, money-grubbers, and greedheads.
Acting here is spot on, not really the problem. Every cast member effectively channels their respective characters without slipping into parodies of the original cast. The illusion takes some time to congeal, particularly with Chris Pine, becoming seamless eventually through sheer exposure. Pine's "I'm A Rebel With A Dead Dad" act is annoying, causing him to lag behind the rest of the cast, and his ability to convey emotion is Shatner-esque only in the sense that he's terribly ham-handed. Thankfully, he's the only weak link in a truly ensemble cast. Quinto's Spock, Urban's Bones, Cho's Sulu, and Anton Yelchin's Chekov deserve special mention for carrying the film between it's too-frequent action sequences. Extra special, extraordinary mention goes to Zoe Saldana, for animating Uhura's role as The Chick with more emotion than ever.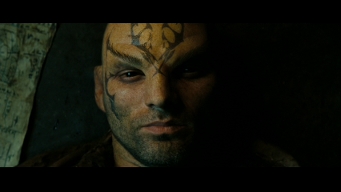 And I must say, Eric Bana (still the best Bruce Banner for my cash) creates his evil, future-Romulan character, Nero, out of absolutely nothing, turning a one-dimensional villain into a believable antagonist through the sheer force of ACTING! Thank you, Mr. Bana. Now get back into those purple shorts.
It should come as no surprise that the nauseating Mission: Impossible III was Abrams' first and only directorial credit, until now. After piloting that train wreck, the Powers That Be should've banned him from even the cheapest digital camera. To say nothing of the fact that this is the man who co-wrote 1998's Armageddon. For the past three years, he's directed occasional episodes of Alias, Jimmy Kimmel's talk show, and (of all things) The Office, seemingly devoting most of his time to wringing money out of the Machine. His efforts in that direction gave us Cloverfield and Lost, allowing him to satiate his addiction to Shakycam. Abrams has also fallen into the annoying habit of shinning lights right in his audience's face. These "flairs," as he calls them, add a level of unreality to an already out-there flick, paradoxical sabotaging the filmmaker's attempts at realism. For God's sake, man, leave the camera in one place and don't try to give your audience seizures.
Beyond that, there's the meta-problem, an inevitable consequence of allowing filmmakers raised on Star Wars and Indiana Jones (some of whom even admit that the Tim Allen spoof Galaxy Quest is their favorite "Trek" film) to make a Star Trek movie. I could go on and on about the philosophical difference between Trek and the dreck churned out by Spielberg's and Lucas' imitators, but, sufficient to say Star Trek is not a succession of shoot-outs and last-minute-save action sequences. Even First Contact, the most kinetic of the films, paused occasionally to talk about something more: the aspirational drive at the heart of humankind, the instinct that drove us over hills, across oceans, and into the stars. That, more than anything, is what's really missing from this film, sacrificed in order to make room for Kirk (and Spock) to emote.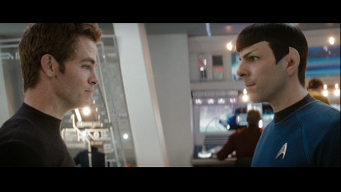 Complete lack of concern for Star Trek continuity combines with a low-opinion of the audience's intelligence to insult each and every one of us, a special talent perfected under the Hollywood cell-phone and smog cloud. The fact that this film takes place in a wacky, parallel universe created by time traveling, Romulan shenanigans is the one bone Abrams and company threw to we long-term fans. Logic thus allows me to completely dismiss this film, the way I dismissed Captain Scott Bakula's holodeck delusion of a TV series, which shall remain nameless.
One step up from the Series We Dare Not Name, and a step down from 2002's already-uninspired Nemesis, 2009's Star Trek is a film I'd like to forget. Pretty but dumb, it will no doubt inspire a succession of increasingly-flawed sequels, forcing me to acknowledge it over and over again. How long do you think it'll take before I look back upon this film with fond memories and declare it the  stand-out entry in  J.J. Abrams'-Star Trek series?
Probably not that long.
One does not make new Star Trek fans by reducing Star Trek to this uneven mush, shoehorning Star Trek's characters into formulaic action movies, or recasting them with younger actors. I don't really care who you use, so long as you put them in a story only Star Trek could tell. Any monkey with a charge card can whip up a starship fight. Few have the narrative balls to place that starship fight inside of an uplifting meditation on the human condition. That is, was, and must forever be the pulsing heart of Trek. Otherwise Gene Roddenberry will come again in glory from the clouds to smite us for the vicious sinners that we are. He is still up there, you know? You'd all better watch your asses.