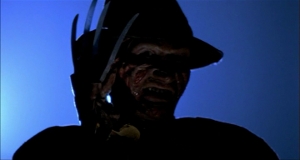 The 1980s were a watershed time for American movies studios. After the protracted collapse of the old studio system in the 40s and 50s necessitated a major overhaul of Hollywood's entire production architecture, major studios spent the 60s and 70s establishing financial relationships with independent movie producers. Previously considered the lowest form of life on Earth, a rising generation of creative types proved instead that smaller films staring no one anybody had ever heard of could make major bank. All they needed as an idea, and a group of people who believed in that idea enough to see it put on screen.
The result? Well, we can see the result on any video store shelf: oodles of low-budget, indy films, no longer made so much as distributed by the major studios. Smaller companies, geared toward nothing but selling these pictures to theaters, sprung up like gravestones in the Crystal Lake Woods. One of them, founded in 1967 by distributors Michael Lynne and Robert Shaye, was named New Line.
New Line hobbled about for a few years, slinging foreign films to college theaters, and by the middle 70s it became adventurous enough to start financing its own films. In 1982 they made an R.D. Lang-inspired inversion of Halloween called Alone in the Dark. Nobody saw it, though the title was certainly good enough to steal. In 1983, they made Xtro, an E.T. rip-off if ever there was one. And in 1984, they contacted a notorious rape-revenge and crazed-hillbilly movie maker Wes Craven to make this. So I guess what they say is true and even a broken clock is right at least once a decade or so.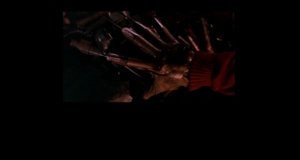 Our story begins in the small, American town of Springwood, Ohio, in the Year of Orwell. Except that's a lie: we begin with one of the most effective, minimalist openings in modern horror: a pair of hands. We watch them attach five razor blades to an old leather glove as the pre-title credits play beneath the shrunken box that's become our first window into the film's world. Red titles rise from like a subconscious urge from the darkness as the hand fades out.
Cut to Tina (Amanda Wyss), a girl in a just-sheer-enough night gown, running through a darkened industrial complex persued by…some one… This, then, is her nightmare. She's had a lot of them recently, all featuring the same imagery. Her mother tells her, "Tina, you gotta cut your fingernails, you gotta stop that dreamin'." She shares them with her friends, Nancy (Heather Langenkamp) and Glen (Johnny motherfucking Depp!). Nancy confesses she's been having eerily similar dreams: nightmares about a horribly-burnt man with razor blades for fingernails…
Not wanting to spend the night alone, Tina requests the pleasure of Nancy and Glen's company…only to abandon them both once her boyfriend Rod (Nick Corri) arrives. The two retire upstairs to do what all teenagers in horror movies do: have sex and die. Glen and Nancy wisely refrain, despite being A Thing.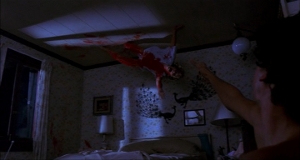 So, of course, Tina dies. But this is a horror film from the middle-80s. We all know what's coming, but as comic books teach us, it's the execution that counts. In a sequence that could've been drawn from a nightmare in it's own right, Tina's sliced apart by an unseen assassin who proceeds to redecorate the room in her blood. Rod, obviously scarred shitless, can only stand by, watch the carnage, and escape. He later confesses he thought the whole thing a bad dream…rather like the bought of nightmares he's been having recently about a burned man in a dirty hat…
Given that it takes two to tang, Rod soon dies for his twin crimes of having sex and being an asshole…in a locked jail cell, no less. The police call it suicide. Nancy's parents urge her to forget the whole thing…but nocturnal visits with the burned man only intensify. Nancy begins to suspect that the man with the claws is real, and somehow capable of killing across the boundaries between dreams the waking world. Nancy's dream-self even manages to snatch the man's hat off and brings it with her back to "reality." It even has a name on the tag: Fred Krueger.
Poignantly, Nancy's  mother needs several stiff drinks before she reveals Krueger's origin. Old Fred murdered some twenty-odd kids before Nancy was born, but walked away from it all on a technicality. Mad with rage, a group of Springwood's concerned parents banded together, tracked "Freddy" to an old factory, and burned the place to the ground. "Fred Krueger can't get you know," Nancy's mom assures her. "Mommy killed him."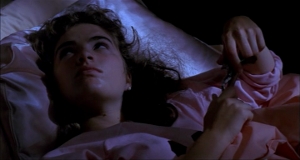 Well you didn't do a very good job of it, Mom. Free of all mortal encumbrance, Krueger's become a superpowered phantom, invading the dreams of his killer's children, hoping to make them pay in their progeny's blood…and guess who's next on the list?
You already knew all that, of course. In fact, you'd be hard pressed to find a kid who doesn't instantly recognize Freddy…or, at the very least, his glove. Both murderer and weapon have become so ingrained in our culture subconscious and it's hideously easy to see why. We're all afraid of the Bogeyman, after all.
I know Freddy's fraternity brother, Michael Myers, is usually given that title, but it's a title Kruger is far more fit to wear. While Michael is the stalking, unstoppable, external threat…the kind suburban Americana seems to fear so much it's been a handy chain politicians have yanked for generations… he is just that: external. It's hard think of a place more internal, or integral, to humanity that our dreams.
Because of this, Nightmare on Elm Street leaks symbolism from ever orifice, and my dirty fedora's off to writer/director Wes Craven. This idea is his excuse to go hog wild, combining every unsettling dream image his apparently-nightmare-addled mind could throw up into a hypothetical meta-nightmare: a collage of easily-recognizable human fears as potent today as it was when it first premiered. It's all here: entrapment, helplessness, hidden-unseen threats…the creeping dread of inevitable mortality. All served to us up in a palpable nightmare stew by a director who could reasonably called visionary.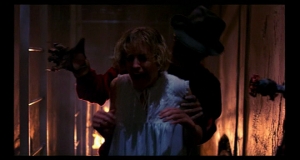 In the process, Craven also creates a hypothetical meta-Slasher film, stacking his bases with all the well-known sub-genre hits in the first twenty minutes. Teenagers gather at a central place, have sex, and die. Once that's out of the way, Craven's free to use a whodunit plot to disparage the collective parenting skills of Middle America's Middle Class…for which I'll eternally salute him. The self-righteousness, the distancing, the needless hiding of a sordid past…it all conspires to place Nancy in Mortal jeopardy and certainly kills her friends.
In that sense, the film's a tragedy as American as apple pie and extra-judicial lynch mobs. Of course, no one wants to believe Nancy when she starts going on about homicidal ghosts, but this is the first "horror" movie since The Blob to really exploit the "kids-say-the-darnedest-things" obliviousness of American adulthood to full effect. You'd think this would be an all purpose tension generating device, but most film's cock it up by not actually be tense. Here, Our Heroine is forced to face the fatally-human fact that we've got to sleep sometime…and her parent's typically-dismissive ignorance and inability to believe them only exacerbates the already built-in tension.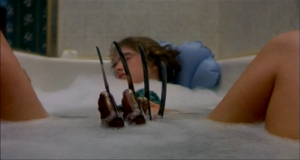 We'll start praising actors with Robert Englund. This is, after all, the role that will haunt him until he dies. Ironic, Fred Kruger being a ghost and all, no? Thankfully, Englund here shows us a depraved monster, the worst person in the world to wield this kind of power, who seems to delight in his victim's fear as much as their blood. A sadomasochist with a god's power, Englund nevertheless portrays him with credibility. He feels real enough to feel threatening, something the legion of Shape-imitators never manage.
In fact, Freddy's obvious weakness lies in the amount of joy he takes in his protracted revenge. Like many a superpowered being before him, Freddy has a bad habit of forgetting about his own superpowers, preferring a more personal touch. The human hand, after all, is our oldest weapon, which I suppose was Craven's whole point all along. Well, thanks for that uplifting message of hope, Wes.
Our other cast members start the film wooden, but end up winning me over by virtue of their ability to play extremes. Young Depp in particular moves well. Ditto with Corri and Wyss, though they have less time to develop beyond the level of Walking Target.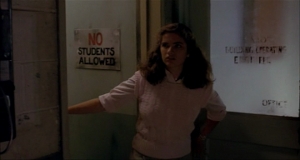 But I must save all my best praise for Heather Langenkamp. Though she beings the flick with all the emotion ADRed out of her dialogue, she gains what I can only describe as a thousand yard stare over the coruse of the film. By the end, you've been through so much with Nancy you can't help but feel for her, since she's pretty much the Final Girl after Tina and Rod check out. As a tragic protagonist she's not exactly what you'd call "flawed." Her only real flaw is ignorance, and for that I Blame the Parents…but in a universe of near-virtuous, one-note main characters Nancy's ifntelligence and persistence shine through, making her my favorite Final Girl of all time.
By the end of the film, I'd believe she could stare down half the marines in Full Metal Jacket. It's her ability to mix determination and fright into some combustable mixture of emotions – call it "determafright." Or just call it Good. John Lovitz would call it "ACTING!" and its something all Final Girls must eventually fall back upon…but few manage it with the grace and continuity of performance the Langenkamp brings to her role.
Hmm . . . let me see . . . character's you care about, a story you can get into (that's merely sprinkled with cliches, instead of drowning in them) and a story that will scare the bejesus out of you. All of which is brought to life by talented artists who actually deserve to be called artists.
You may hate this movie for what it created (or helped create, considering wise-cracking maniacs are hardly unique). You may hate this movie because it gave Slasher movies the shot in the arm they needed to last through the rest of the 80s. But no matter what, don't fault the movie for its progeny. A Nightmare on Elm Street is, and should remain, right up there with Halloween and Psycho as a great horror movie of the 20th century, certainly the best of the Slasher genre to date. Tauntingly written, well directed, crafted to scare you silly, only its low production values save it from perfection. Just go buy it already, before I go off and write a dissertation about it.